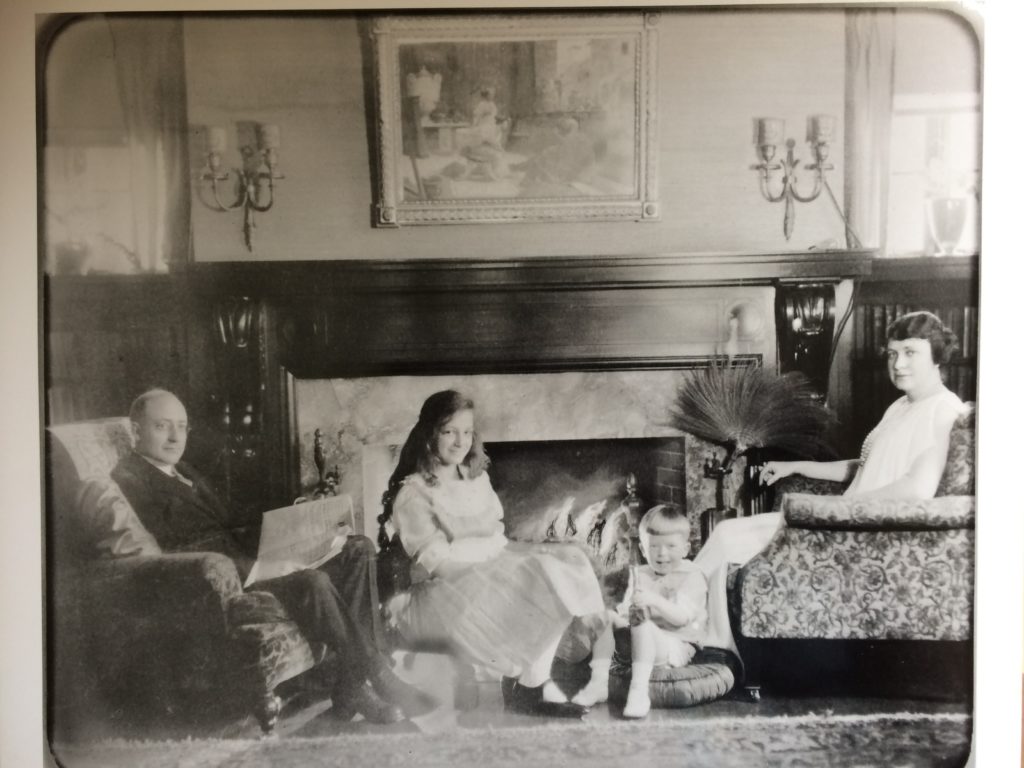 Pictured in this 1922 photograph are the Gannett family, sitting at home in what is now the First Amendment Museum at 184 State Street in Augusta, Maine. This family portrait includes, from left, Guy P. Gannett, his daughter Alice Madeleine, his son John, and his wife Anne Macomber Gannett. Guy and Anne's third child, daughter Jean, would be born in 1924.
184 State Street
The ornate, yellow stuccoed, red-roofed building that Guy Gannett and his family lived in was the only significant "Mediterranean Revival" style home in Augusta, Maine when it was built in 1911. Not only was it innovative architecturally, but the home also featured many modern marvels at the time including electric light fixtures, central vacuum, an elevator, and the first automobile garage in the city.
Guy and Anne were gifted their home as a wedding present by Guy's father William Howard Gannett. The elder Gannett was a successful Maine entrepreneur who founded his own company, Comfort Magazine. Learn more about William H. Gannett.
Guy and his family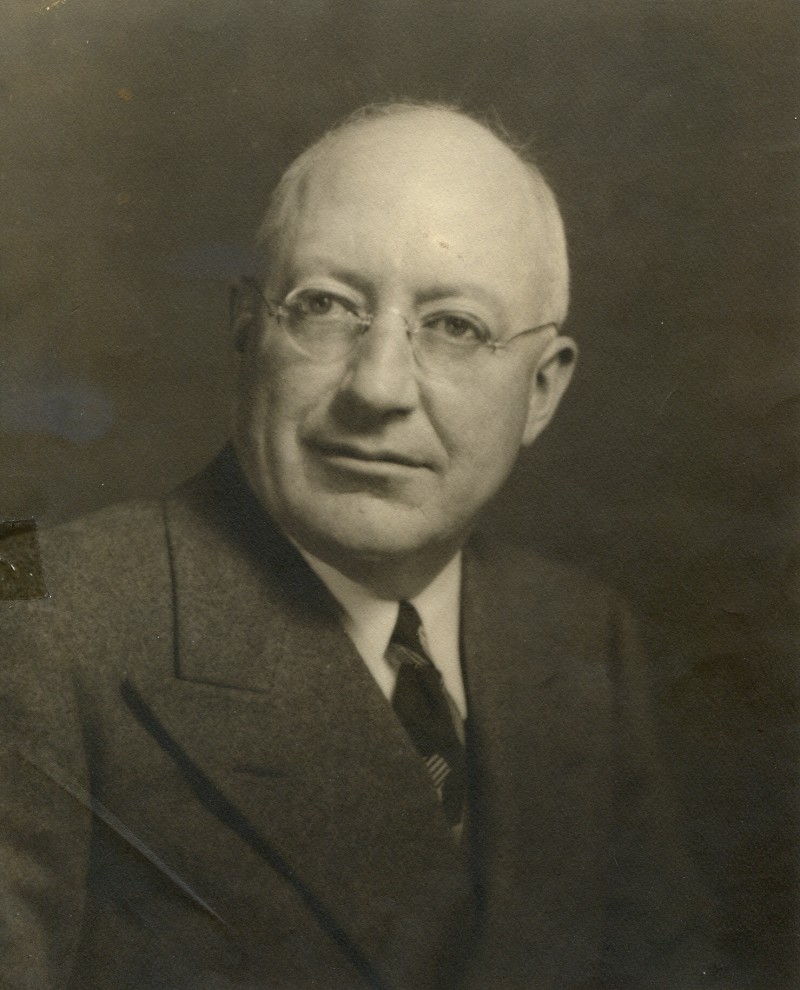 Guy, like his father, was incredibly successful within the communications industry. After succeeding William H. Gannett as president of Comfort Magazine in 1921, Guy recognized that the business model for mail-order magazines was losing its profitability, and instead turned his attention to newspapers. That same year, he purchased and merged two struggling Portland, Maine newspapers to create the Portland Press Herald. The newspaper grew in success and is still a leading newspaper for Southern Maine today.
Guy held strong to his core values of editorial integrity, stating:
"I have never regarded the newspaper as a piece of private property to be managed for mercenary ends; but rather as an institution to be managed for the public good."

Guy P. Gannett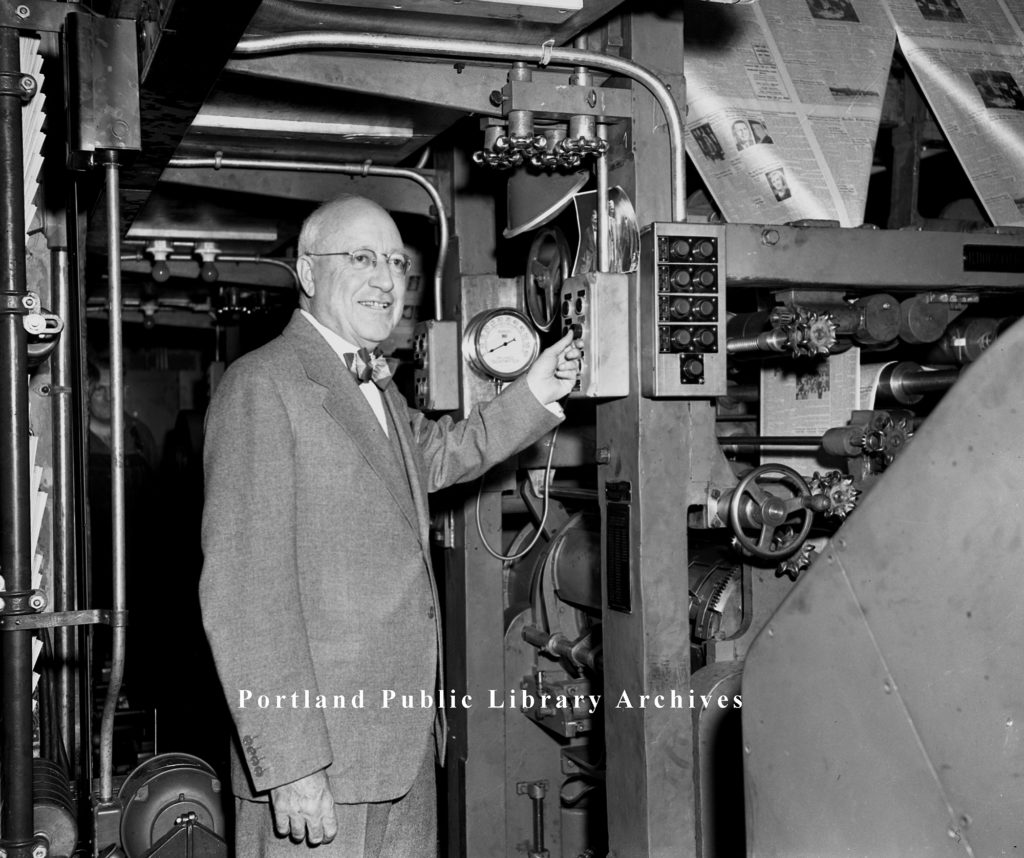 Image: "Guy P. Gannett Switching on New Printing Presses, 1948" Portland Press Herald Newspaper History – Portland Press Herald Still Film Negatives. Credit Portland Public Library Archives.
In a 1922 letter to his editors at Portland Press Herald, he wrote:
"Please remember that this paper is not a political organ or a propaganda sheet of any kind, but an independent newspaper … I expect you to attack dishonesty, graft, and mismanagement in public affairs. I expect you just as carefully to avoid attacking anyone because he represents a different political, religious, or social belief than the publisher. Give facts, but refrain from writing into them your views or my views."

Guy P. Gannett
Within a few years, Guy had purchased several more Maine newspapers, and by 1929 he had established Guy Gannett Publishing Co, which later became Guy Gannett Communications. In the following decades, the company diversified into both radio and television.
Some of the newspapers Guy Gannett Communications owned included the Evening Express, the Waterville Morning Sentinel, Portland Sunday Telegram, and the Kennebec Journal. In the 1930s, the company founded radio station WGAN, and in the 1950s, WGAN-TV (now WGME).
By the end of his life, Guy had transformed the company he had inherited from his father into a media empire. Like his father, Guy was a shrewd advertiser and ambitious businessman; he was quoted as saying "The right time never comes if you wait for it, the way to hear opportunity knocking is to get outside the door and knock on it yourself. That's the only way you'll ever hear fate say 'come in.'"
Guy's wife Anne Macomber Gannett was President of the Augusta Women's Suffrage Association at the time when the Maine legislature gave women the vote. She was also active in the Republican Party and was the first woman to sit on the National Republican Committee.
Learn more about Anne and the Suffragette movement.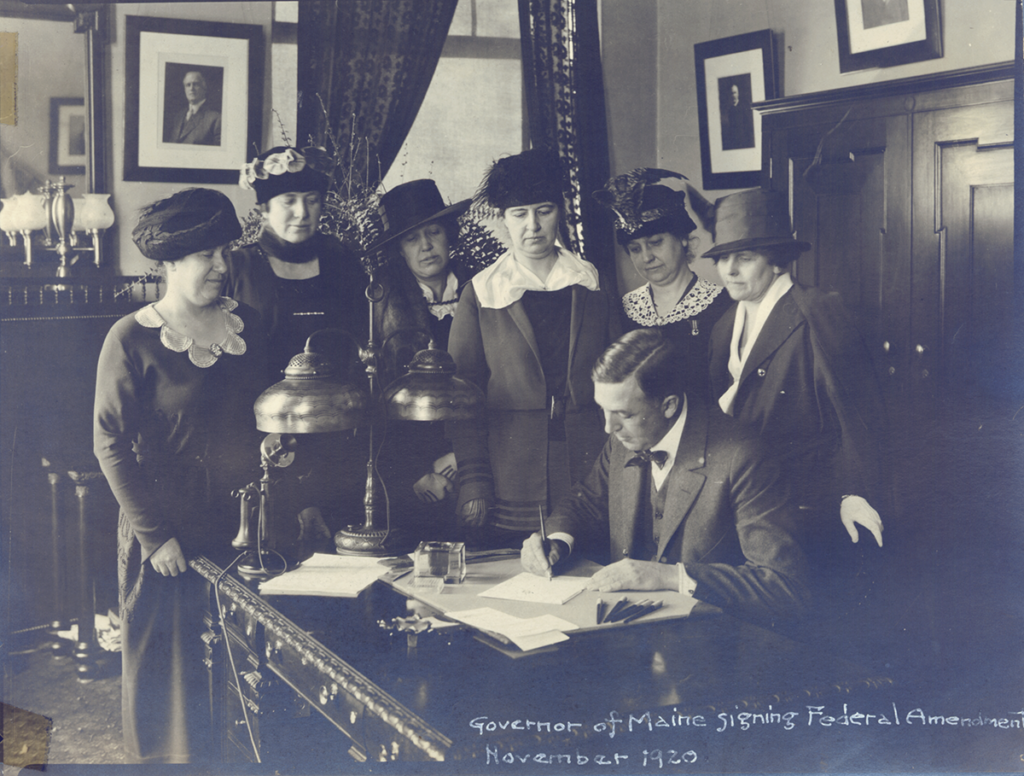 Image: Maine Governor Carl Milliken signing that he will ratify the 19th Amendment, with Anne Gannett second from left, 1920
Guy was also involved in politics and served in the Maine House of Representatives from 1917–1918 and in the Maine State Senate between 1919–1920.
After Guy's death in 1954, his daughter Jean Gannett Hawley took over Guy Gannett Communications. Learn more about Jean.
Later Years
The Gannetts sold their family home on State Street in 1927 and moved to Cape Elizabeth, where Guy could be closer to Portland to oversee the Portland Press Herald. The state of Maine acquired the building in the 1970s, and it was used to house the State Planning Office until 2010.
When the building was purchased from the state in late 2015 by the Gannett House Project, it was clear that it needed extensive restoration and renovation. The once-grand status of the Gannett House had deteriorated over the decades.
In the years following its purchase, extensive work was done on the exterior of the house which included fully removing and restoring the slate roof. Other necessary projects that were carried out included lead paint abatement, chimney rebuilds, window restoration, and historic ironwork restoration.
In this video, you can see the progress of the restoration over the last few years:
Of course, there is still more work to be done – both outside and inside the home. We're working with a wonderful team of consultants, including leaders in the fields of historic preservation, cutting-edge exhibit designers, and talented architects and contractors to carry out the next phase for the First Amendment Museum.