As Americans, we're part of a democratic society that has the tools to imagine and create the change we want to see. One of these tools is the First Amendment, which protects our ability to make these advancements. It tells us how we create the "more perfect union" the founding fathers hoped future generations would develop.
But unlike other societies where inconvenient people or ideas are silenced, a working democracy demands participation from its citizens. And that means all of our voices are needed.
Democracy cannot operate without informed, active, and engaged citizens, and our constitution gives us all the right to participate. But what are our constitutional rights as American citizens? And how many of us actually know them?
This is why the First Amendment Museum began.
Since the purchase of 184 State Street in December 2015 by the Gannett House Project, sisters Genie Gannett and Terry Hopkins have had evolving plans for what was once the home of their grandparents.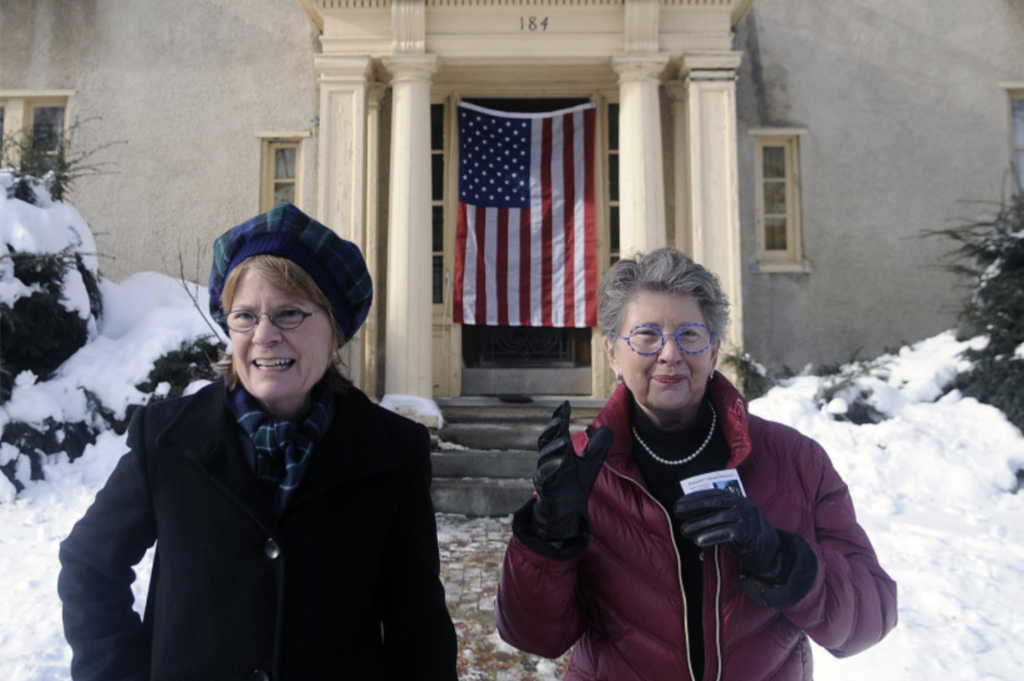 Image: Genie Gannett, right, and Terry Gannett Hopkins. Photo credit Andy Molloy, Central Maine
"We thought we'd make it a small house museum and tell the story of our family enterprise, newspaper publishing, and the importance of a free press in a democracy. As our discussions expanded, it became clear that the First Amendment is a "package deal," with the five freedoms of religion, speech, press, assembly, and petition working together to create and maintain democracy for all Americans."

– Genie Gannett
Over the last few years, extensive repairs and historical restoration work has secured the structure's architectural integrity. Today, the Museum is open, and visitors are welcome to take a limited, guided tour of the temporary exhibition. With guidance from the Board of Directors, CEO, and a team of architects, historic preservationists, museum consultants, and exhibition designers, the First Amendment Museum is poised for its next phase: to complete the restoration of the historic structures and construct a 5,000 square foot addition necessary for museum operations. Concurrently, staff will develop transformative online and local programming to complement the exhibition that will be installed when the building is complete.
Images: Rendering of the museum with future addition from south elevation,
Rendering of the museum with future addition from north elevation, Richardson Associates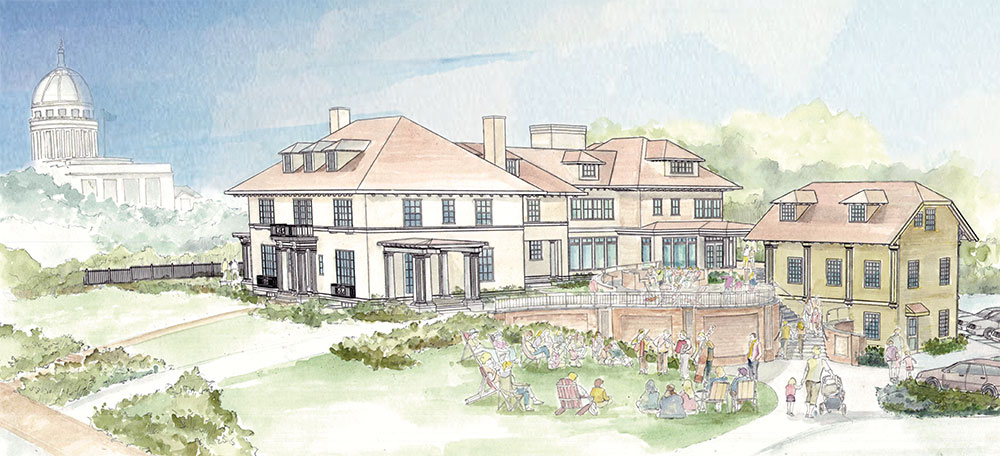 First Amendment at home
One of the themes the museum's future exhibition will cover include how one experiences the First Amendment in their home. The museum will leverage the power of place, utilizing the various rooms in the Gannett House as context. It's at home, after all, where we live our First Amendment freedoms on a daily basis.
Some examples of these future room exhibitions include:
In the library, shelves filled with examples of forms of expression that have faced censorship. This might include literature, music, clothing, and news. There will also be two wing-backed library chairs with interactive components in which visitors can explore the history of the five freedoms of the First Amendment.
In another room, the teen bedroom, visitors will navigate the murky world of free expression on the Internet. This will include a multimedia interactive game that challenges visitors to spot moments when public discourse is getting uncivil with a scrolling social media feed. As well, a media projection will show a rotating series of teen bedrooms with provocative items on display; visitors will be asked to explore their own beliefs about what should and shouldn't be displayed.
Beyond the exhibition
A major component of the museum's future is building up an interactive online presence as well as on-site programming.
As the First Amendment Museum is dedicated to expanding everyone's appreciation, understanding, and guardianship of the First Amendment, the museum's exhibits will also be available online. The museum's website will grow to offer an interactive online resource that will help visitors from all over the country learn more about their five freedoms.
The First Amendment Museum will also grow its partnerships with local organizations throughout the state of Maine, and eventually throughout the country. Partnerships will include local schools and colleges, other museums, and civic organizations. Through these partnerships, we hope to expand on various programming initiatives, which will be centered around four key ideas: facilitating dialogue, amplifying voices, encouraging debate, and listening. These ideas were selected because only through confrontation, the exchange of ideas, and exposure to different viewpoints can we bring about the change we seek in the world.
As outlined in our statement, the First Amendment Museum is poised to amplify the voices of marginalized communities while simultaneously fostering listening. Please contact us today if you would like to collaborate and participate in our future programming.
Knowing and valuing our rights means that we can tell when it's time to get more involved. We need to recognize violations of religious liberties, free speech, and free press. We need to let our government know when something needs to be changed. And we need to work together to improve and construct the country that we want to live in – because it is we the people who decide through democratic participation how our society will look.
---