A1 Apple Daily Thursday, June 24, 2021
Hong Kongers' tears-in-rain farewell shoutout: "We stand with Apple"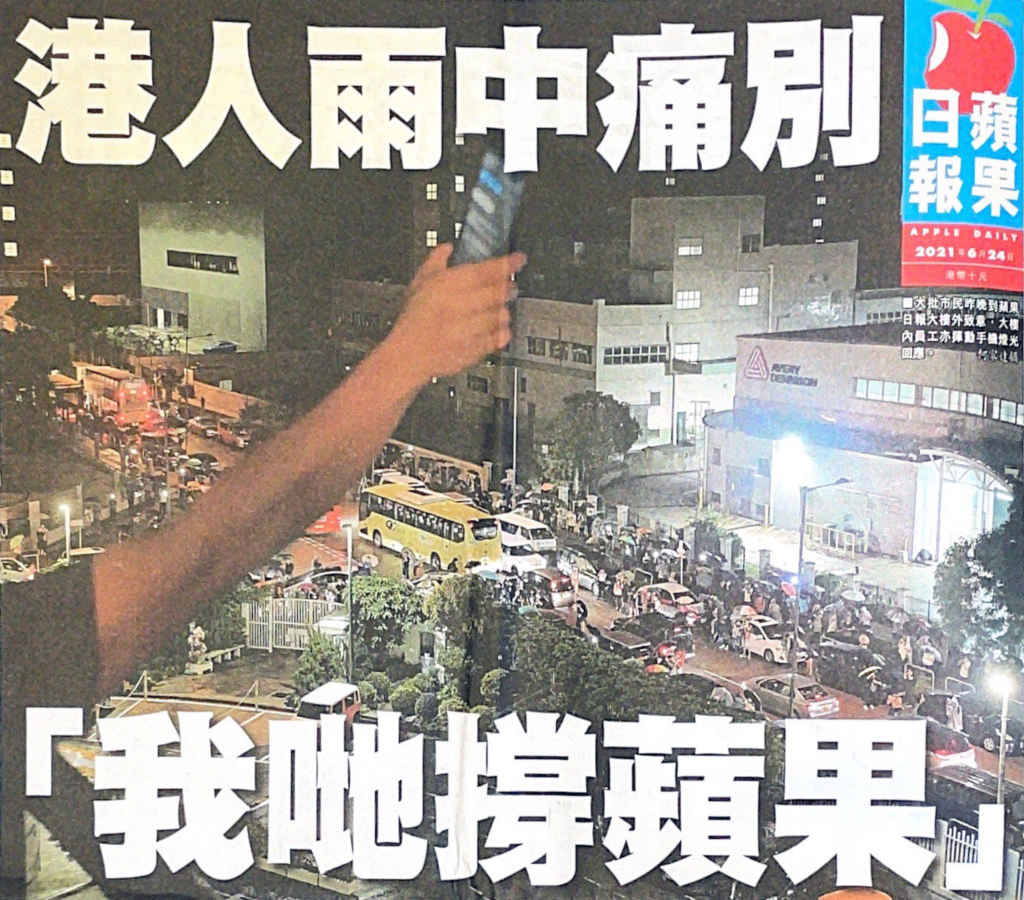 Scores of citizens gathered outside the Apple Daily building last night to pay homage. Staff inside also waved around their mobile phone flashlights in response. (Photo by Ho Ka-Tat)
【From Apple Daily】Today, Apple Daily penned its final chapter, bidding farewell to Hong Kong. Through this journey of some 26 years, we have finished our race, we have fought the good fight. Without any regrets, we are grateful to have sailed with our original commitment to "walk with the people of Hong Kong" unwaveringly to the very end. Yesterday morning, the National Security Department of the Hong Kong Police Force struck again to arrest Apple's lead editorial writer Yeung Ching-Kee. The Board of Next Digital promptly announced that Apple Daily would publish its last print edition no later than this Saturday. Out of concern for employee safety and manpower considerations, Apple's management later made a decision to run its last print edition today and to cease operations and stop updating its website after midnight. Many citizens gathered in the rain in front of the Apple Daily building yesterday to say goodbye. Some waved around their mobile phone flashlights while chanting "We stand with Apple!", "We support Apple!" and other slogans in tribute to Apple staff.
By Chan Kok Ming (Alvin), Apple Daily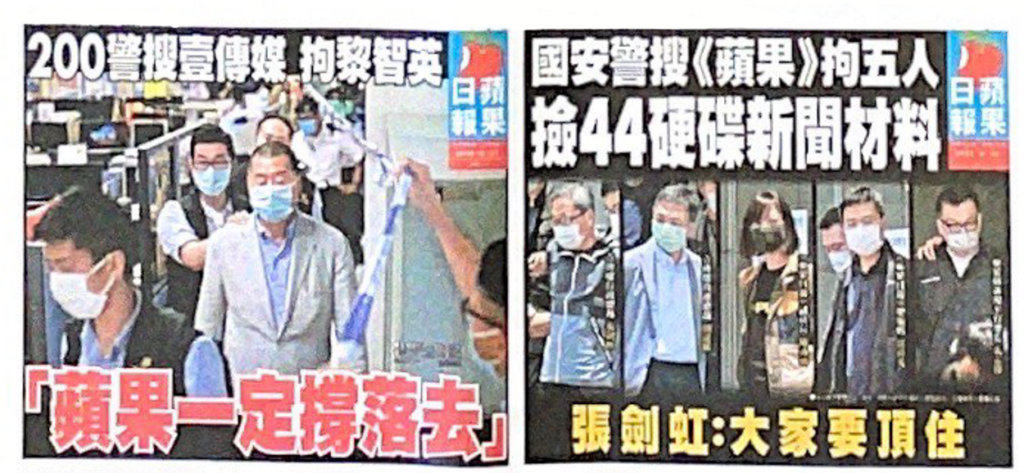 Police twice raided the Apple Daily building, in August last year and the 17th this month, arresting several Next Digital executives and senior editors and freezing the bank accounts linked to these companies, eventually precipitating Apple's shutdown.
Following last week's national security police raid of the Apple Daily building arresting two corporate executives and three senior editors, Apple's lead editorial writer Yeung Ching-Kee was arrested yesterday in the Tseung Kwan O District and detained overnight on suspicion of colluding with foreign and external forces to endanger national security. A police press release stated that the operation was still ongoing and did not rule out more arrests.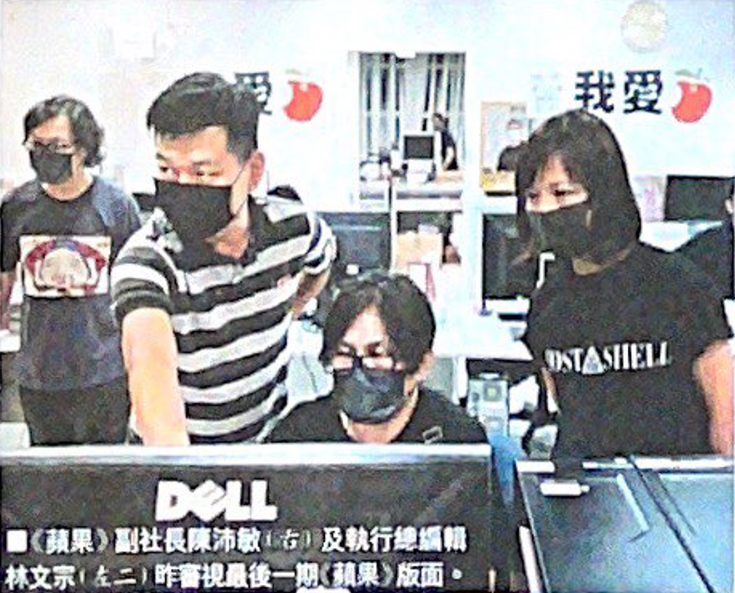 Apple associate publisher Chan Pui-Man (right) and executive chief editor Lam Man-Chung (second to left) examining the layout of the newspaper's final edition yesterday.
Following the arrests, the Next Digital Board called an emergency meeting and issued an announcement afterward with regret: due to the current circumstances prevailing in Hong Kong, Apple Daily in its print form would come to an end no later than the last edition on Saturday, and the digital version would no longer be accessible no later than 11:59 p.m. on the 26th. Following the Board's announcement, Apple's management later made a decision to run its last print edition today and cease operations after midnight, citing employee safety and staffing considerations in its statement. The goal is to circulate one million copies of the final print edition, to top the company's record. The actual number would depend on the capacities of the printer and distributors. The Apple website would shut down after midnight.
Jimmy Lai Chee-Ying: "I fully understand my colleagues' decision"
Next Digital will soon announce arrangements for staff and subscribers. Apple thanks readers, subscribers, advertisers, and Hong Kongers for their great support in the past 26 years, keeping faith to walk with Apple all along. "Goodbye, fellow Hong Kongers, and take care." The Board also thanks Apple's readers for their loyal support as well as Apple's journalists, workers, and advertisers for their commitment over the past 26 years. According to the report, the founder of Next Digital, Jimmy Lai Chee-Ying, who has delegated to management all decisions as to the future of Apple, states that he fully understands his colleagues' decision.
The Hong Kong Journalists Association deeply deplores the shutdown of Apple, noting that its closure was caused neither by the company's inability to continue nor being given up by the readers, but more for reasons that were beyond their control. The Association reiterates that even though some Next Digital personnel were arrested over alleged unlawful acts, they have not been convicted as yet. Still, the organization has been forced to shut down. "Different sectors of the society will have their own judgment" on what has transpired here, the Association states. The Association's Chair, Ronson Chan, points out that since the Hong Kong Special Administrative Region's version of the National Security Law was implemented, Chief Executive Carrie Lam has always emphasized that the law is meant to target only a handful of people. In this current incident, one would then think that other news sections in Apple such as Finance and Economy, Entertainment, and Supplement should not have been affected, and yet the entire media organization has now been implicated. He asks if this is not tantamount to the practice of "Collective Punishment" [whereby penalties are meted out not only to the individual being accused but also to everyone connected to that individual by association]. Witnessing the last days at Apple will put a chill in the heart of everyone working in the media industry.
The Association also notes that ever since the inception of Apple and Next Digital's other publications, they had been ever-present on not only local news, but also topics concerning lifestyles etc., broadening the horizon of Hong Kong citizens and fueling the progression of the media industry. As such, the closure of Apple brought immeasurable loss to not only the industry, but Hong Kong as well. The Association strongly calls on the HKSAR government to keep their promise on freedom of the press, allowing journalists to serve Hong Kong without fear.

Scholars: The government can no way stifle all voices
Andrew Shum Wai Nam, a member of Civil Rights Observer, calls the shutdown a most saddening development, as Apple has been an integral part of many Hong Kongers' lives. He remarks that the manner leading to Apple's demise is unprecedented, locally or internationally, and is likely to go down in media history as a landmark event.
Deputy CEO of The Hong Kong Public Opinion Research Institute [formerly a program of the University of Hong Kong; privatized since June 30, 2019] Chung Kim-Wah laments the shutdown, reminiscing that he has been a reader of Apple since its inaugural issue and had written a column for the newspaper for
five years. He notes that in the current political environment, many media outlets have tailored the contents of their reporting, so the voice of Apple is especially important. The government has brought down Apple this time with repressive tactics for sure, but it can no way stifle all voices. He calls upon everyone to find other channels for self-expression, and exhorts news media workers not to feel discouraged. "Hopefully Apple will be back with us someday."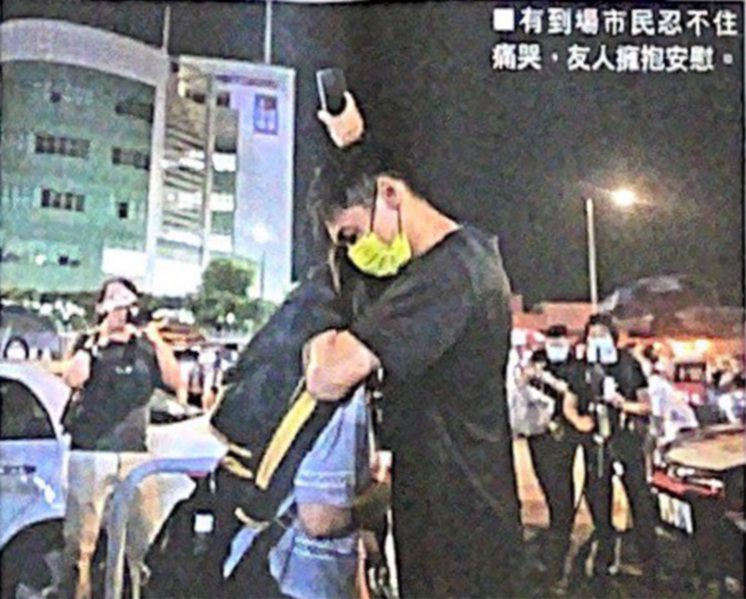 Some citizens who came to the site could not help crying and were hugged by friends in consolation.
Yesterday torrential rain was pouring all over Hong Kong all day, but that did not stop Hong Kongers from pouring in outside the Apple Daily building to bid Apple farewell. One citizen traveled two hours just to take pictures of the headquarters building for remembrance. Some citizens also brought sunflowers and greeting cards for Apple staff, with the sunflowers symbolizing survival in stormy weather. After dark, more and more people gathered outside the Apple building, waving their mobile phone flashlights together and shouting slogans such as "We stand with Apple!" and "We support Apple!" to pay tribute and offer encouragement to the staff inside.
This evening, Hong Kong Science and Technology Park, the management corporation for Tseung Kwan O Industrial Park where the Apple Daily building is located, abruptly issued a press release alleging that Apple's printing operations in the Industrial Park violated multiple regulations. The corporation stated that it has taken action in accordance with the terms of Apple's contract, and had issued a notice of breach of contract to the company, setting in motion the procedure to reclaim the land it leased to Apple Daily.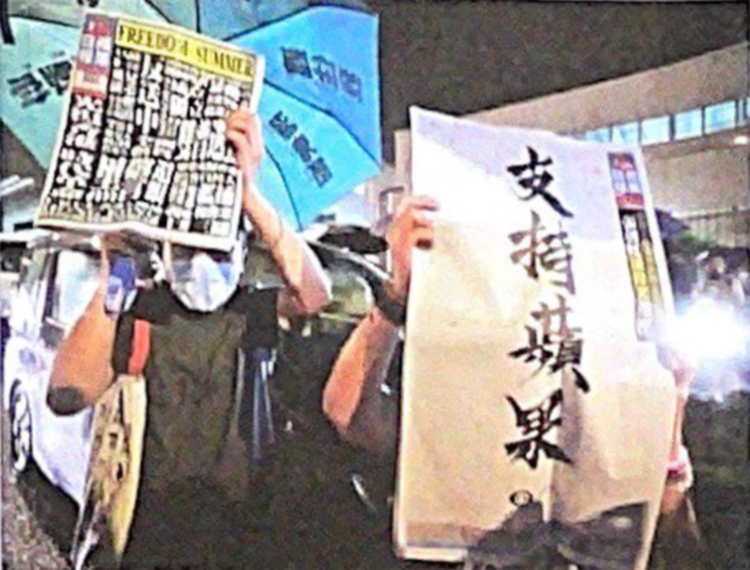 Citizens lifting up copies of Apple Daily and its special issue in solidarity.