I Am Woman: Maine Activists
Throughout history, Maine women have used their First Amendment freedoms to advance democracy. Living up to the state's official motto "Dirigo," – I Lead – Maine women have been in the vanguard on issues like environmental justice, labor rights, indigenous rights, advancing free expression, and more.
Through the works of Maine artist Robert Shetterly, this exhibition explores the ideas and activism of eleven Maine women who used their First Amendment freedoms to bring about a more just society. We hope these stories of people exercising their First Amendment rights inspire future generations to "live their freedoms."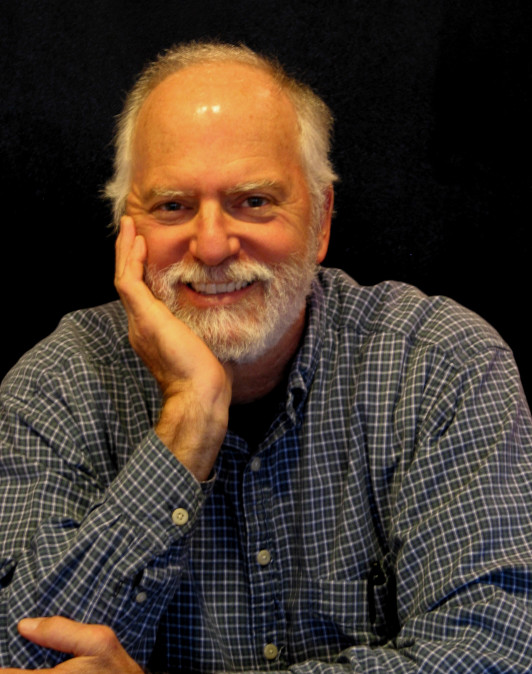 These eleven portraits were painted by Robert Shetterly and were selected from his larger project entitled "Americans Who Tell the Truth," a collection of more than 250 portraits of Americans, past and present, who had the courage to confront issues of social, environmental, and economic justice – utilizing their First Amendment freedoms. "Americans Who Tell the Truth" began in 2001 and has blossomed into a series of activist portraits that he continues to add to. Born in Cincinnati, Ohio, in 1946, Shetterly lives and paints in his studio in Brooksville, Maine.
---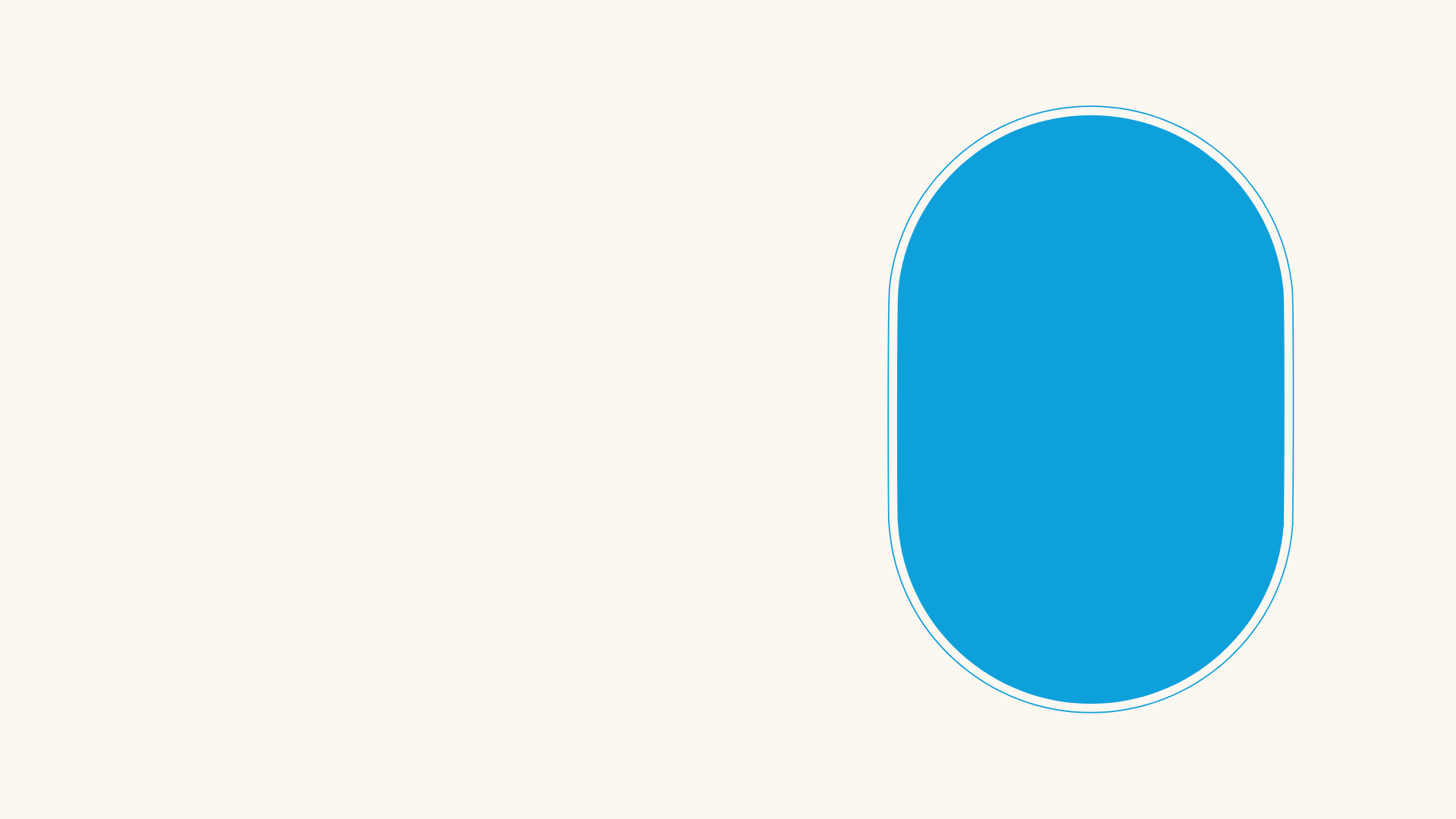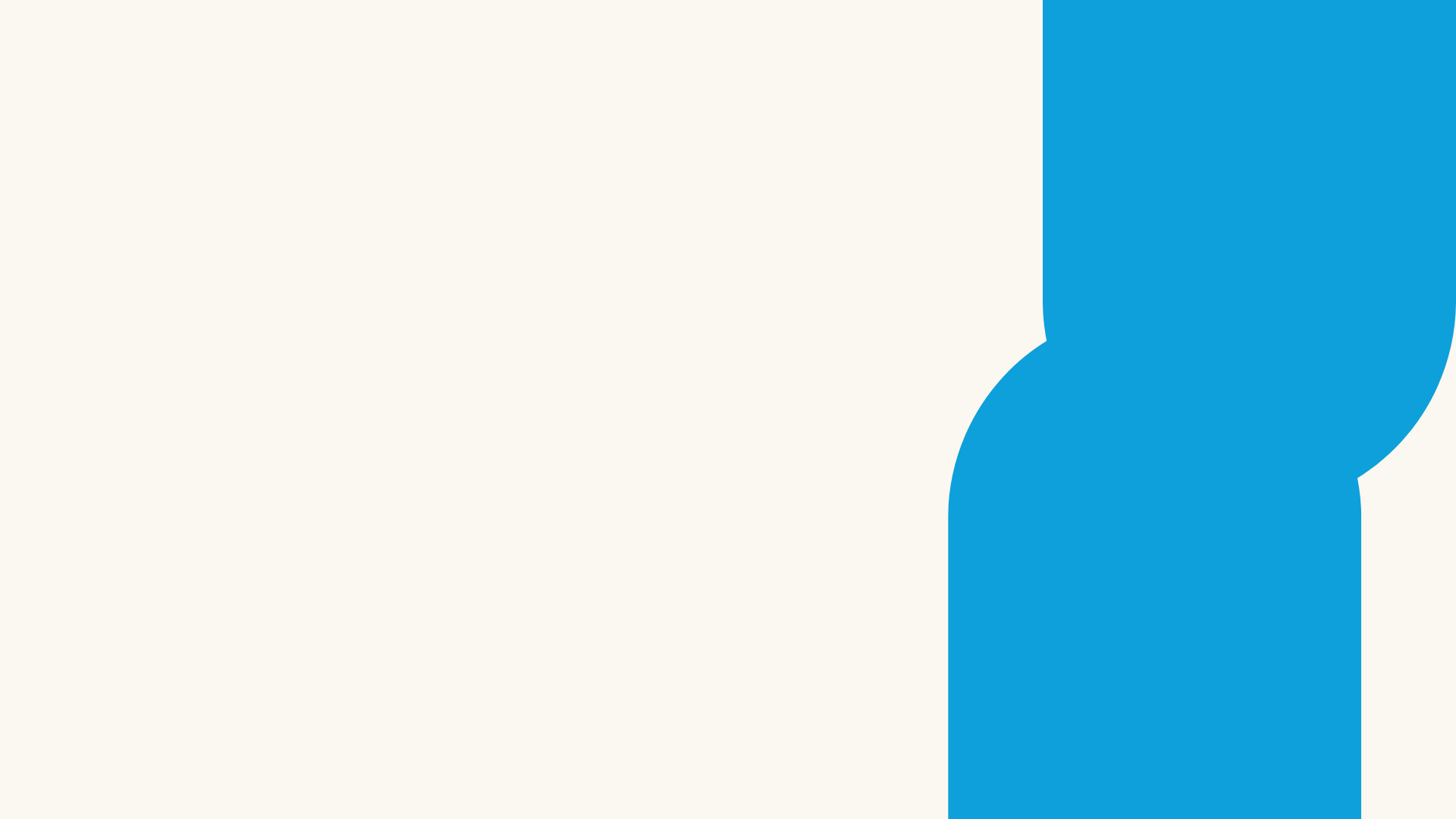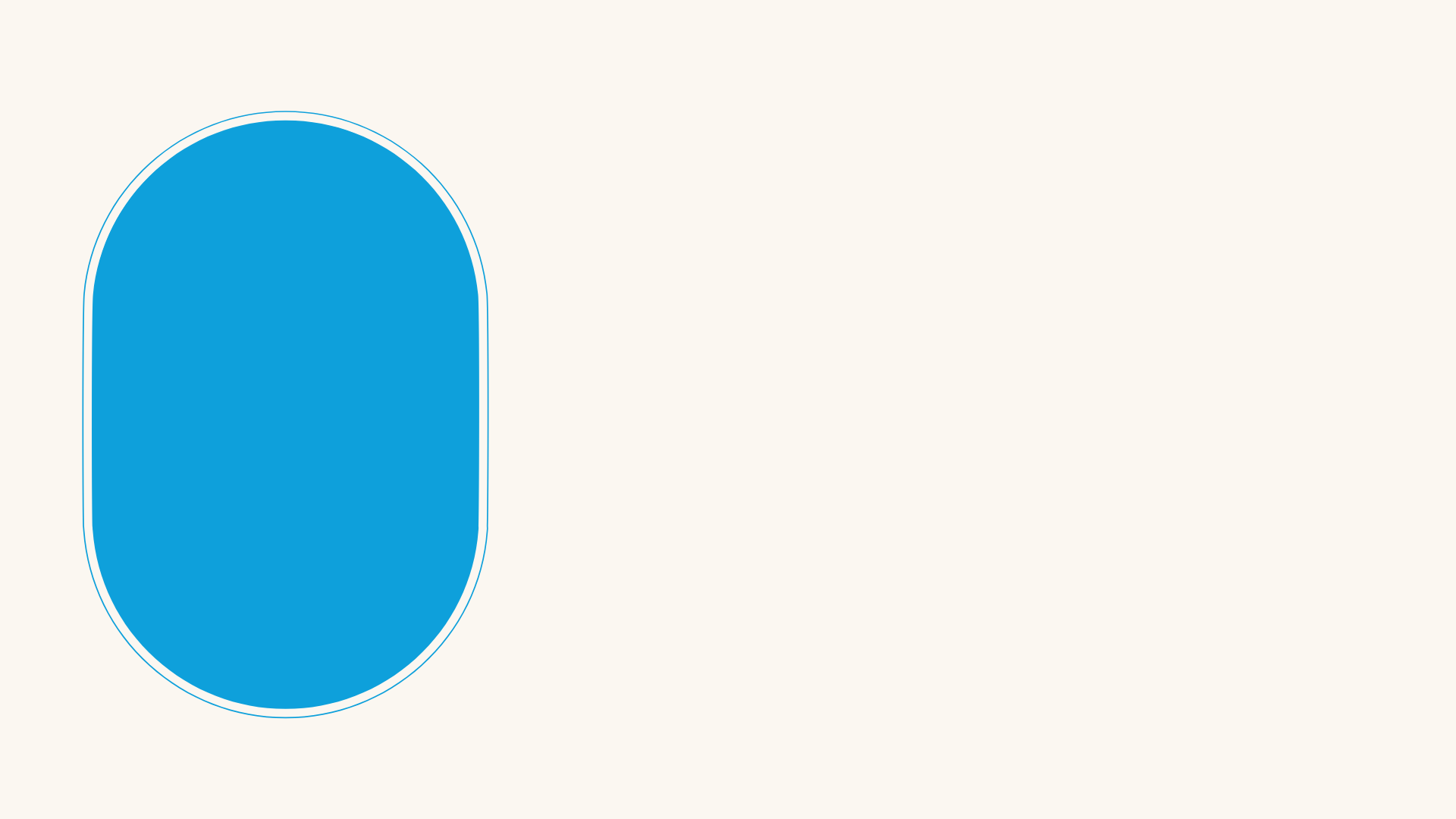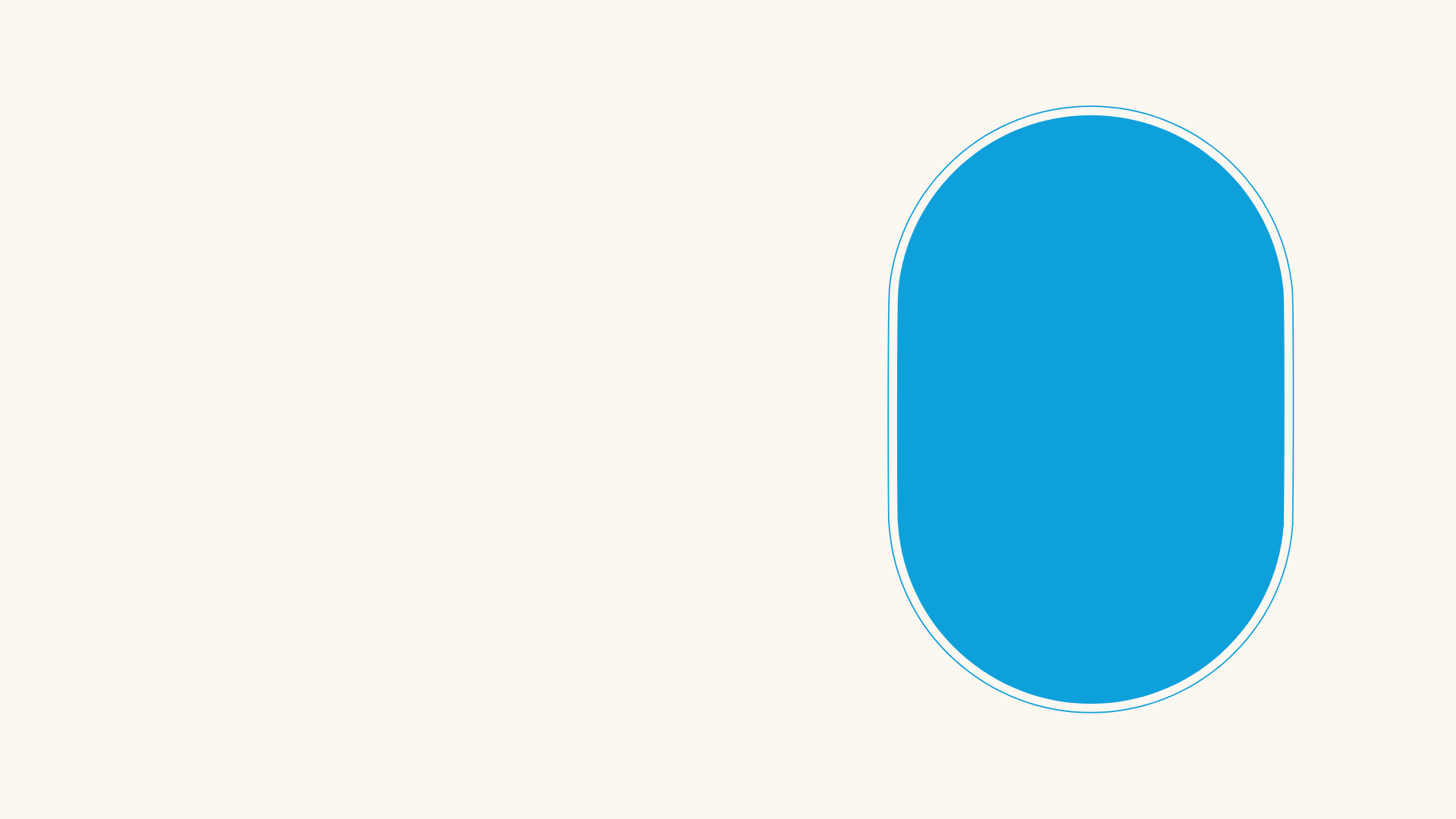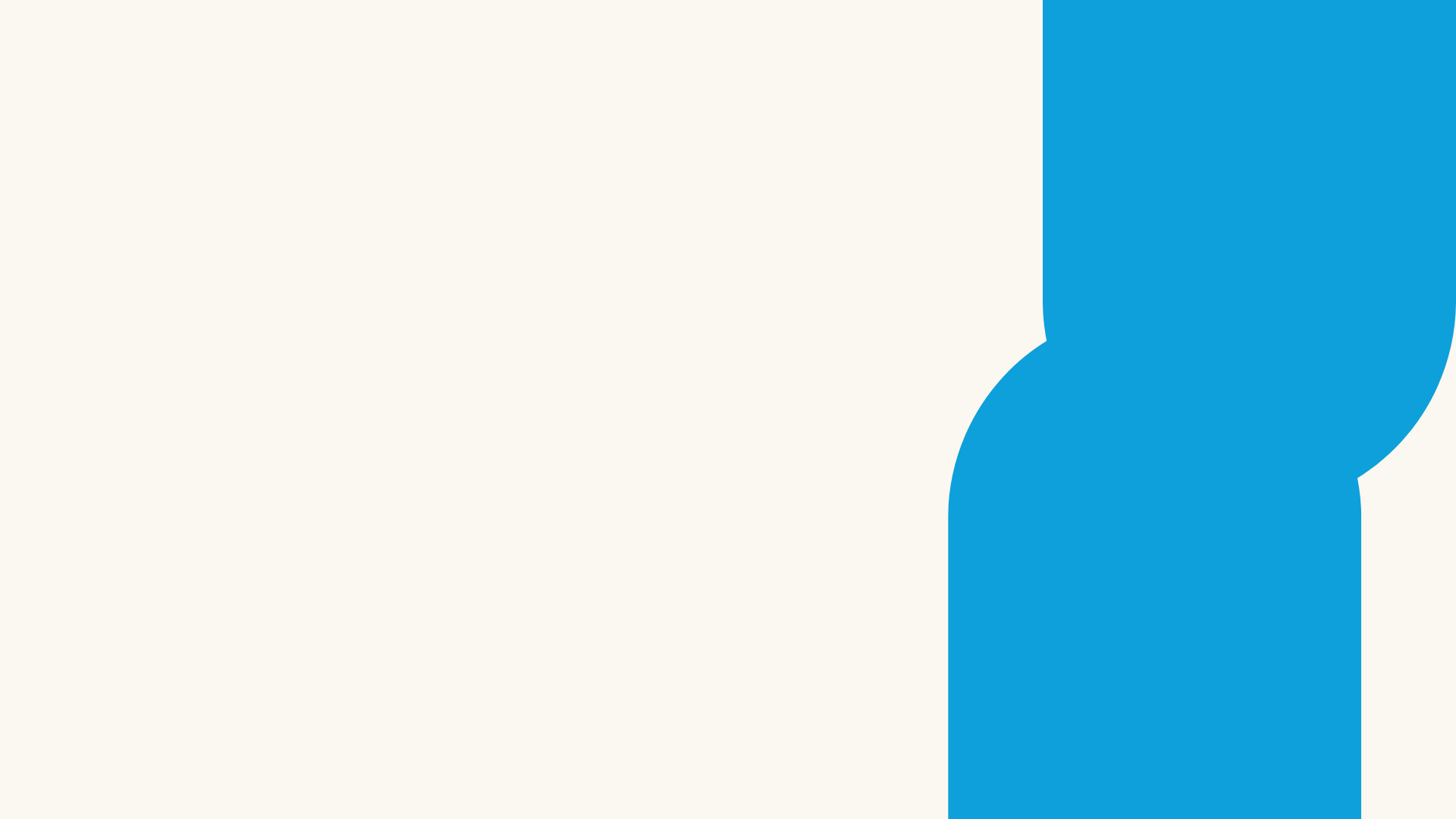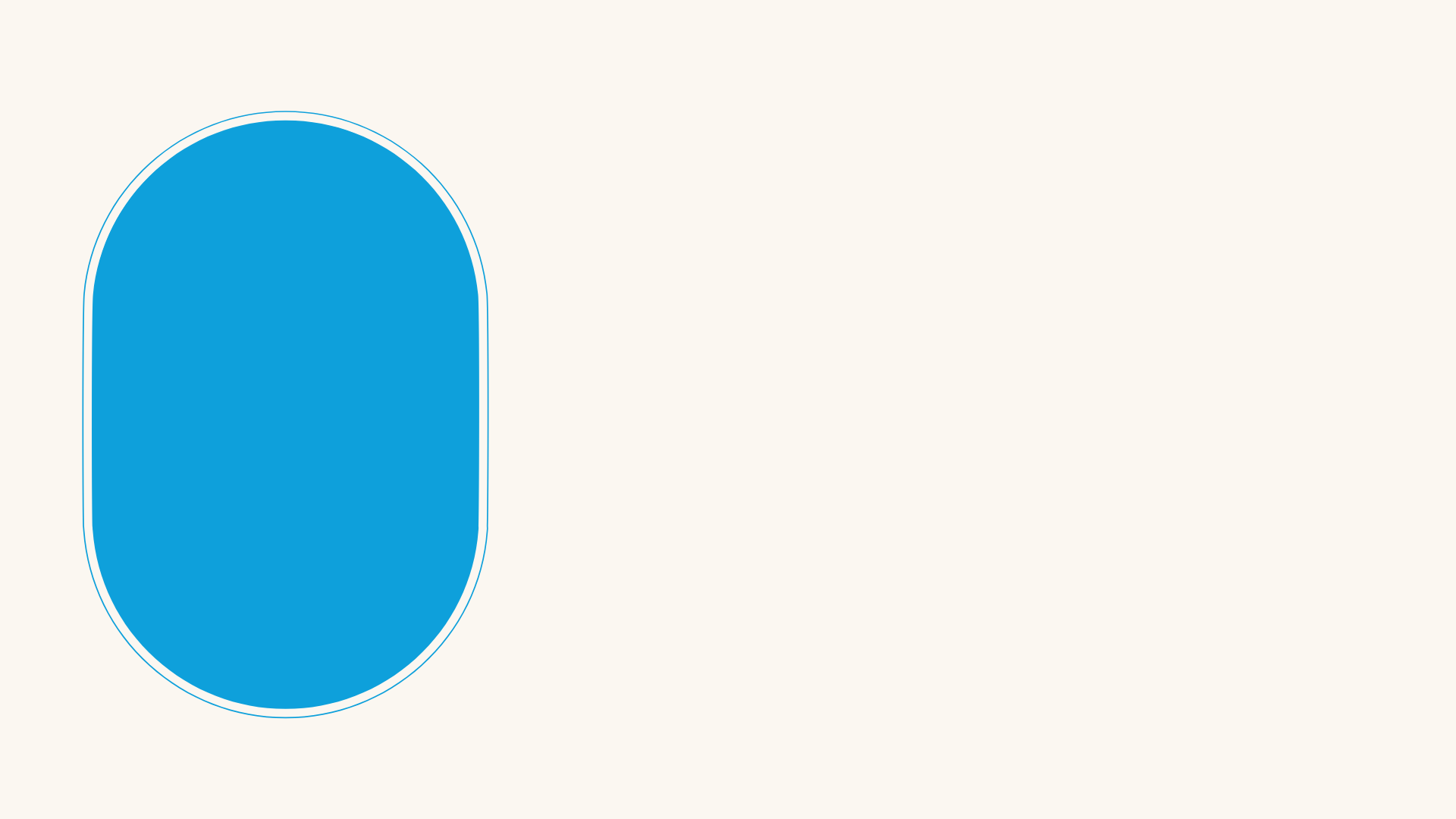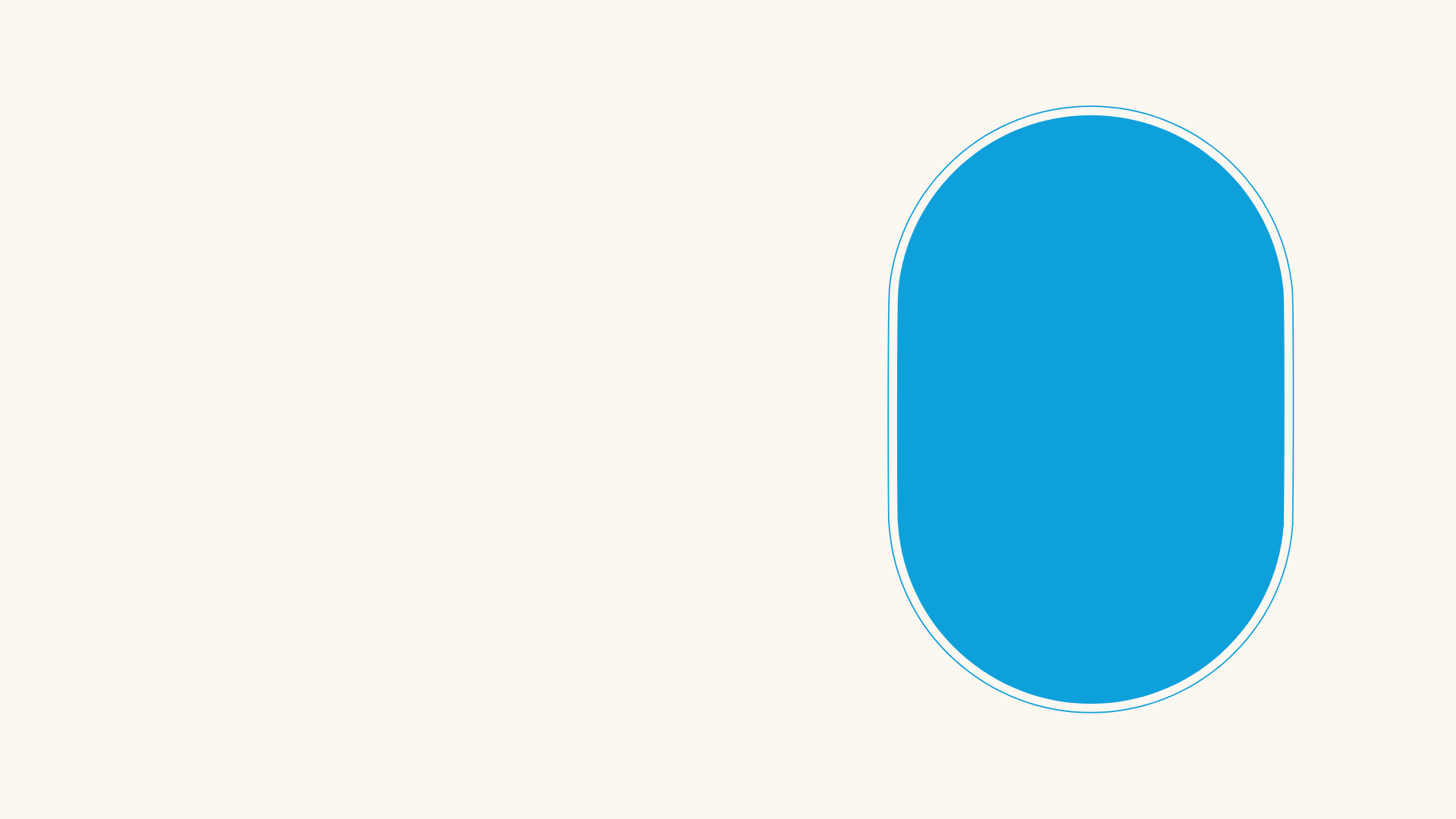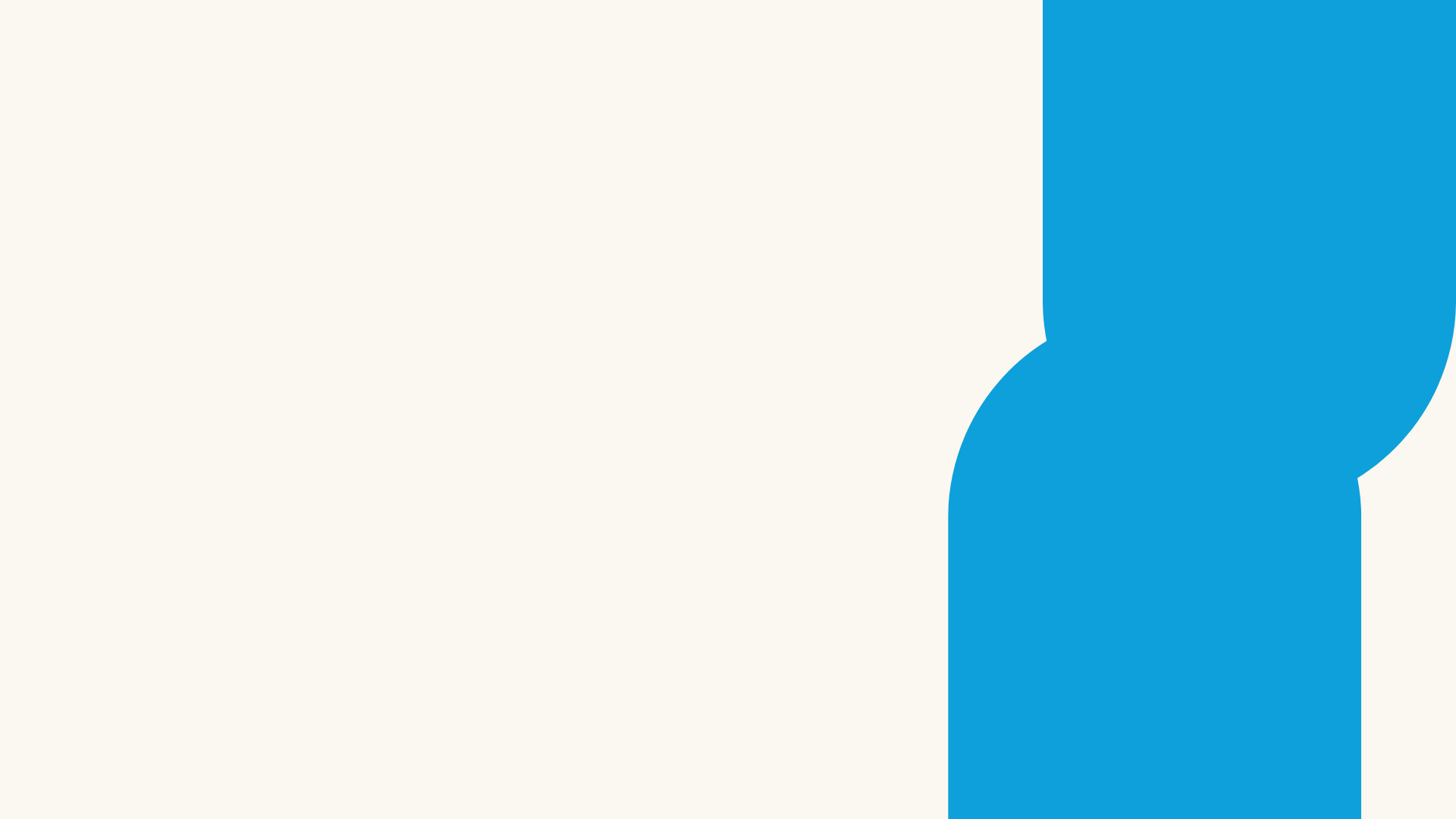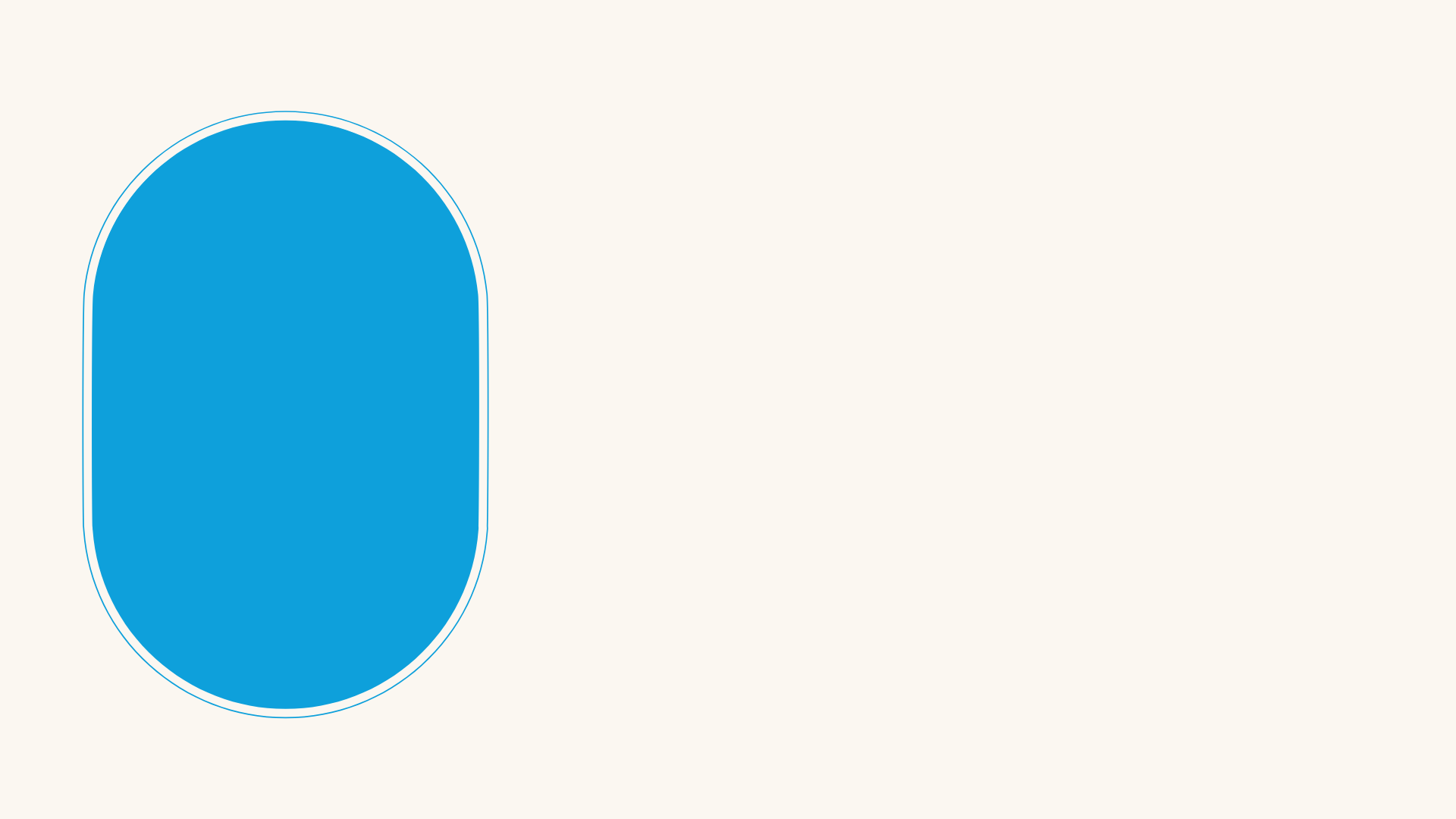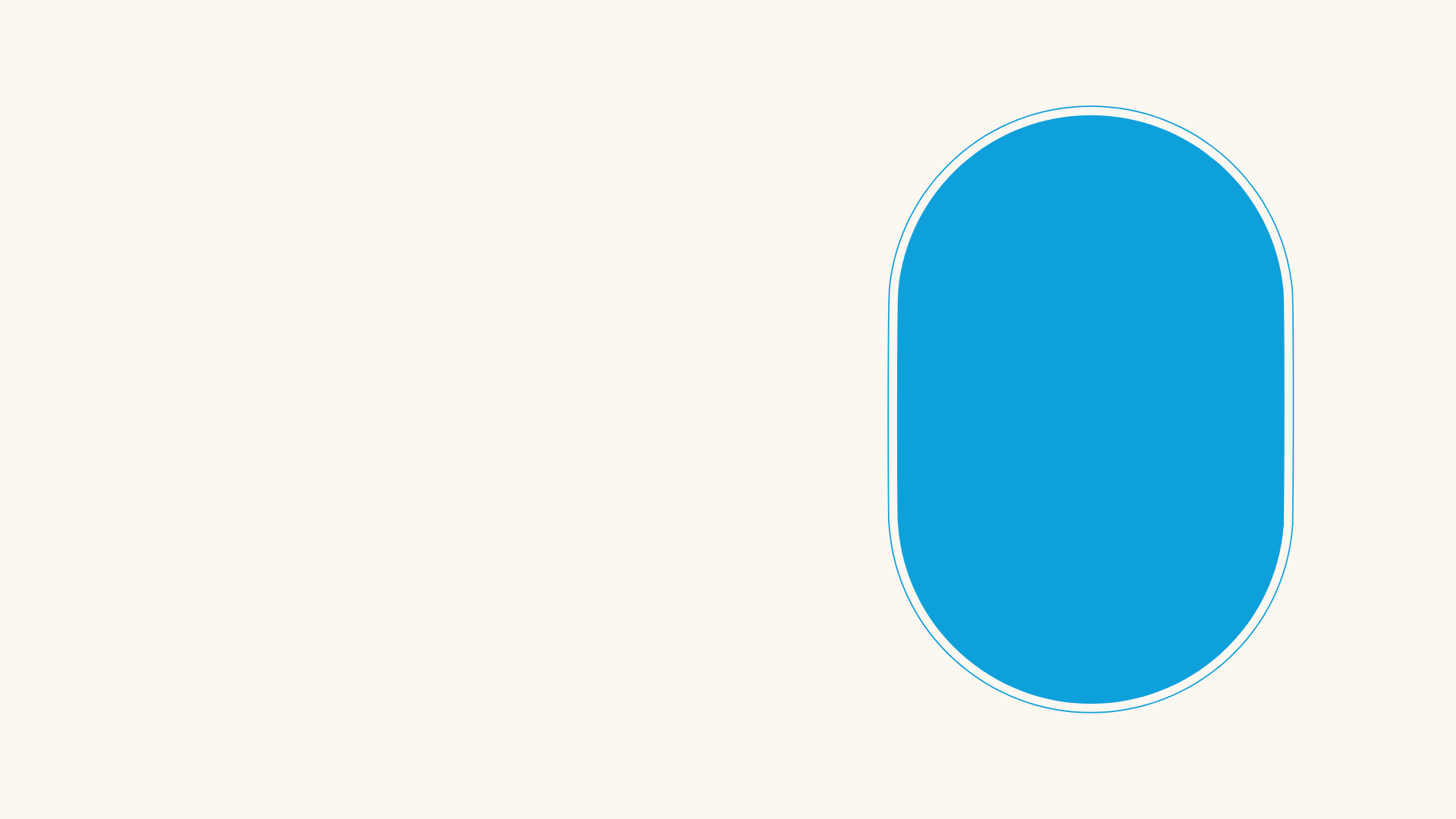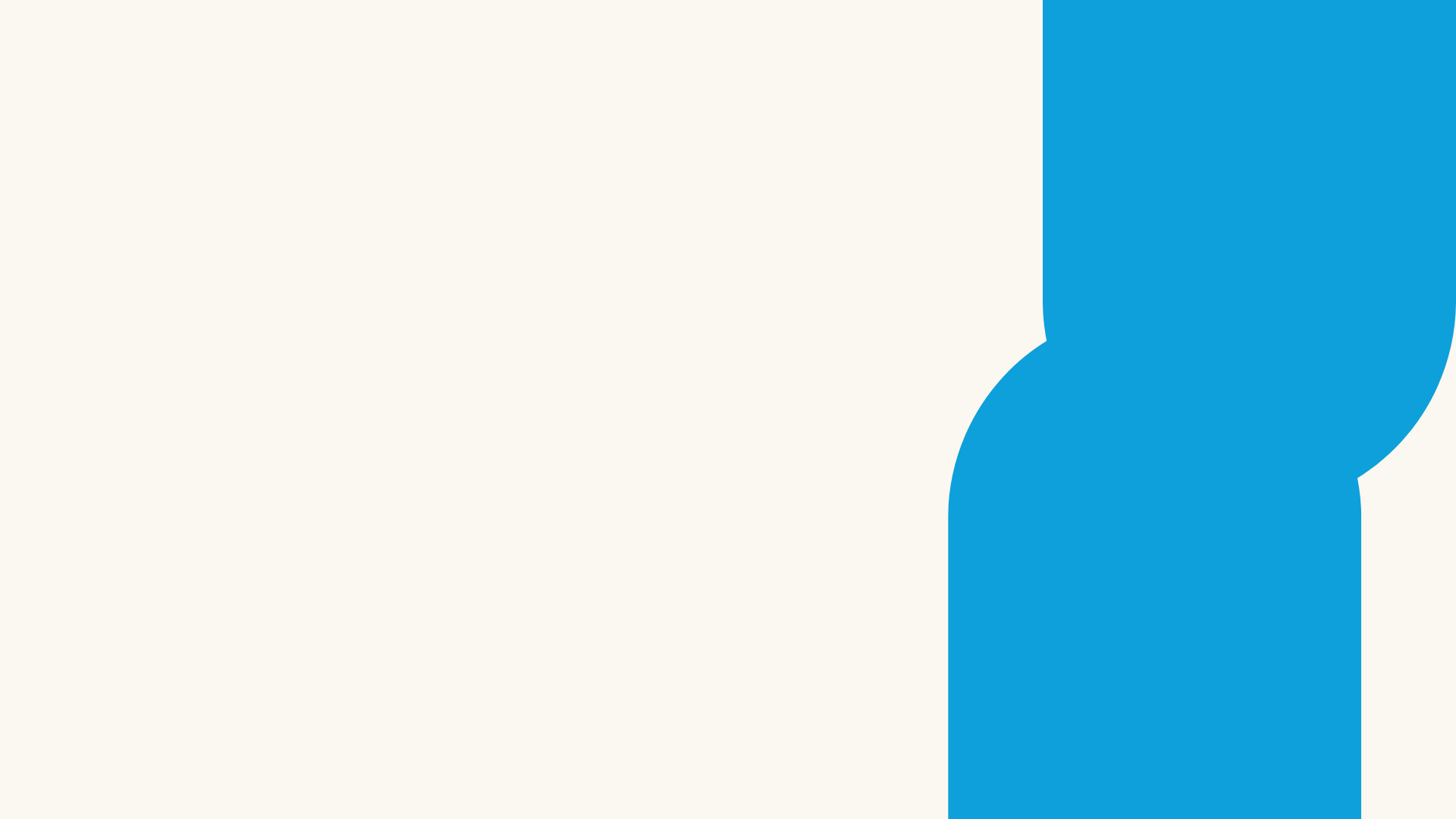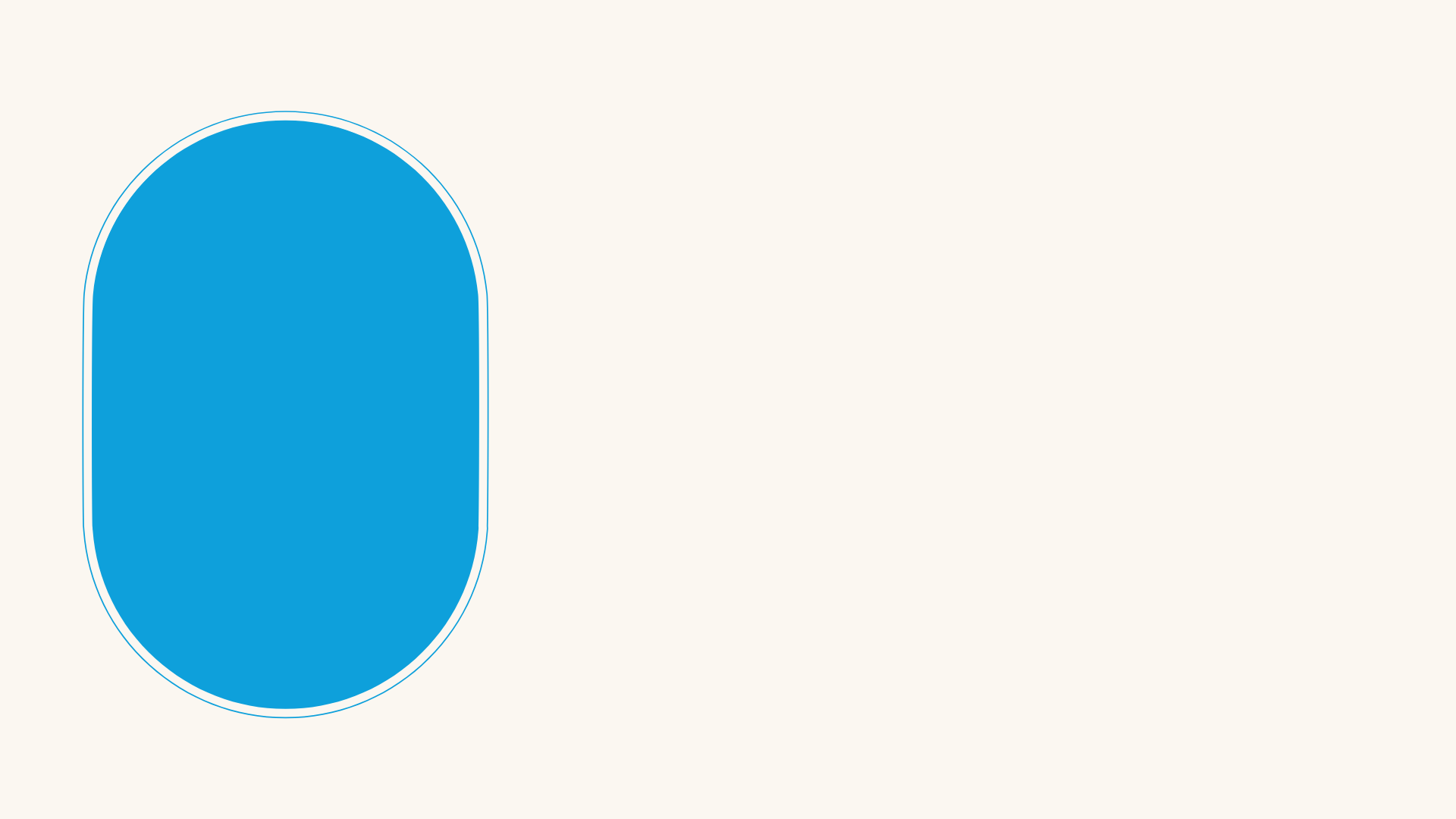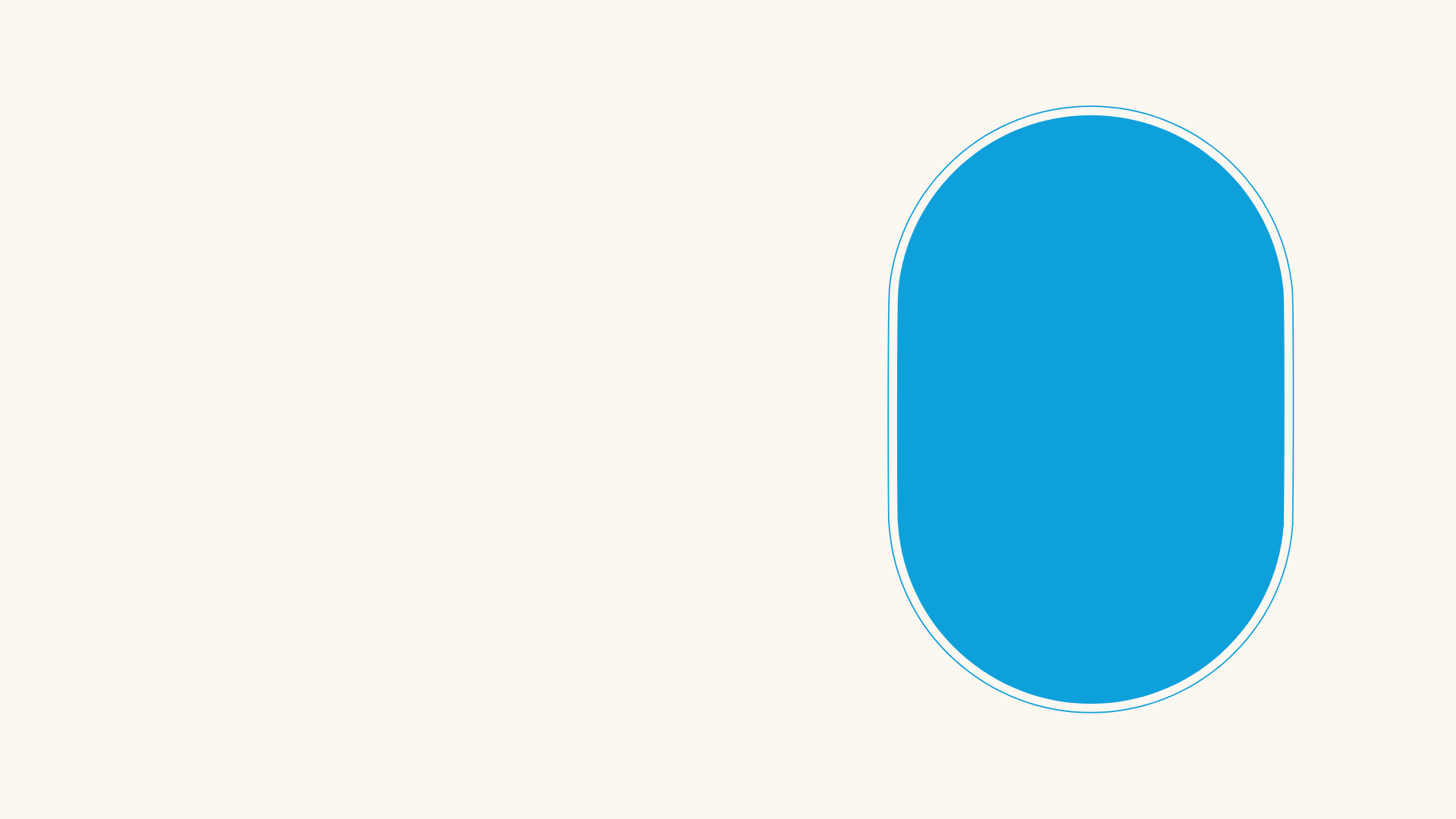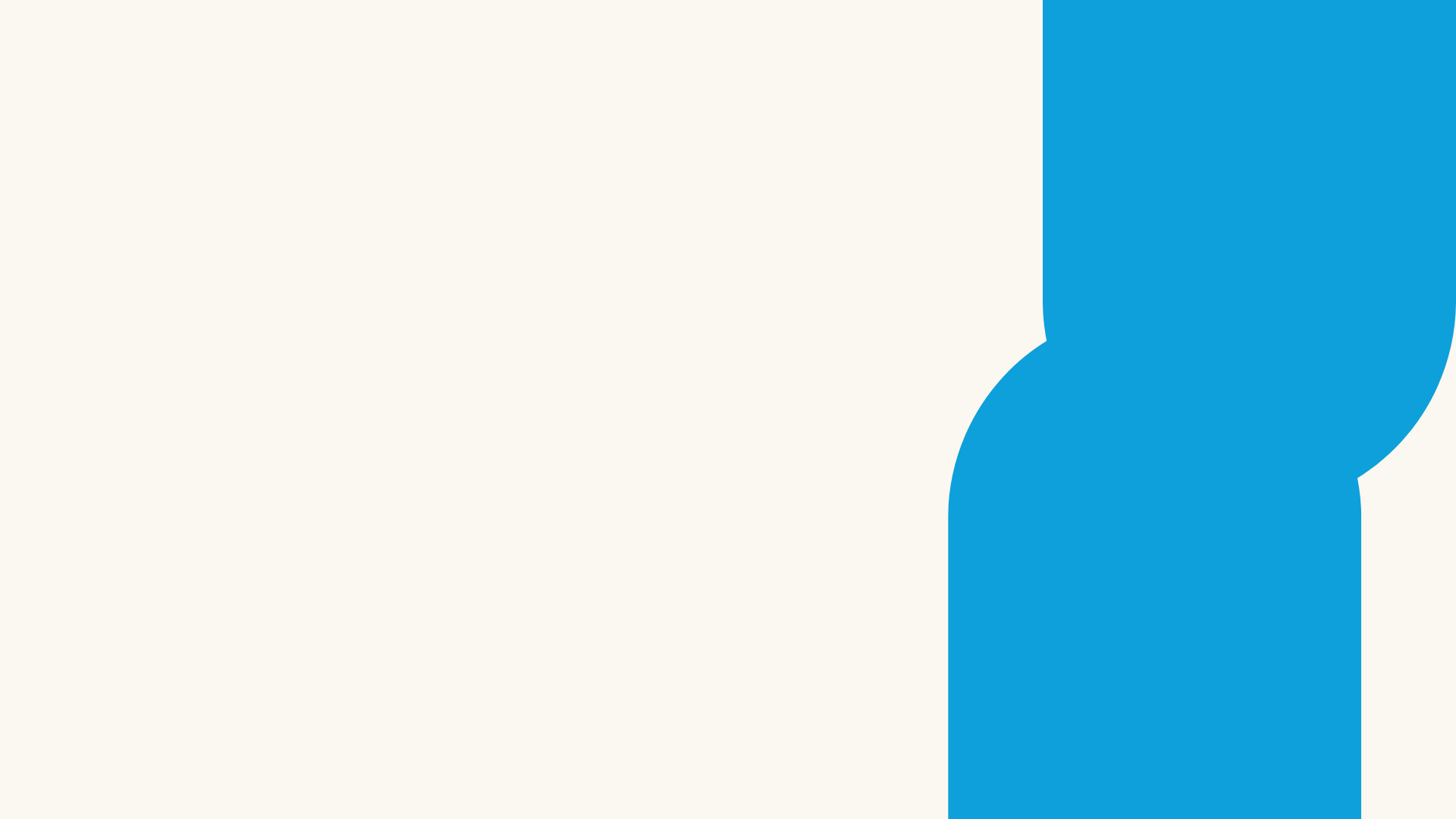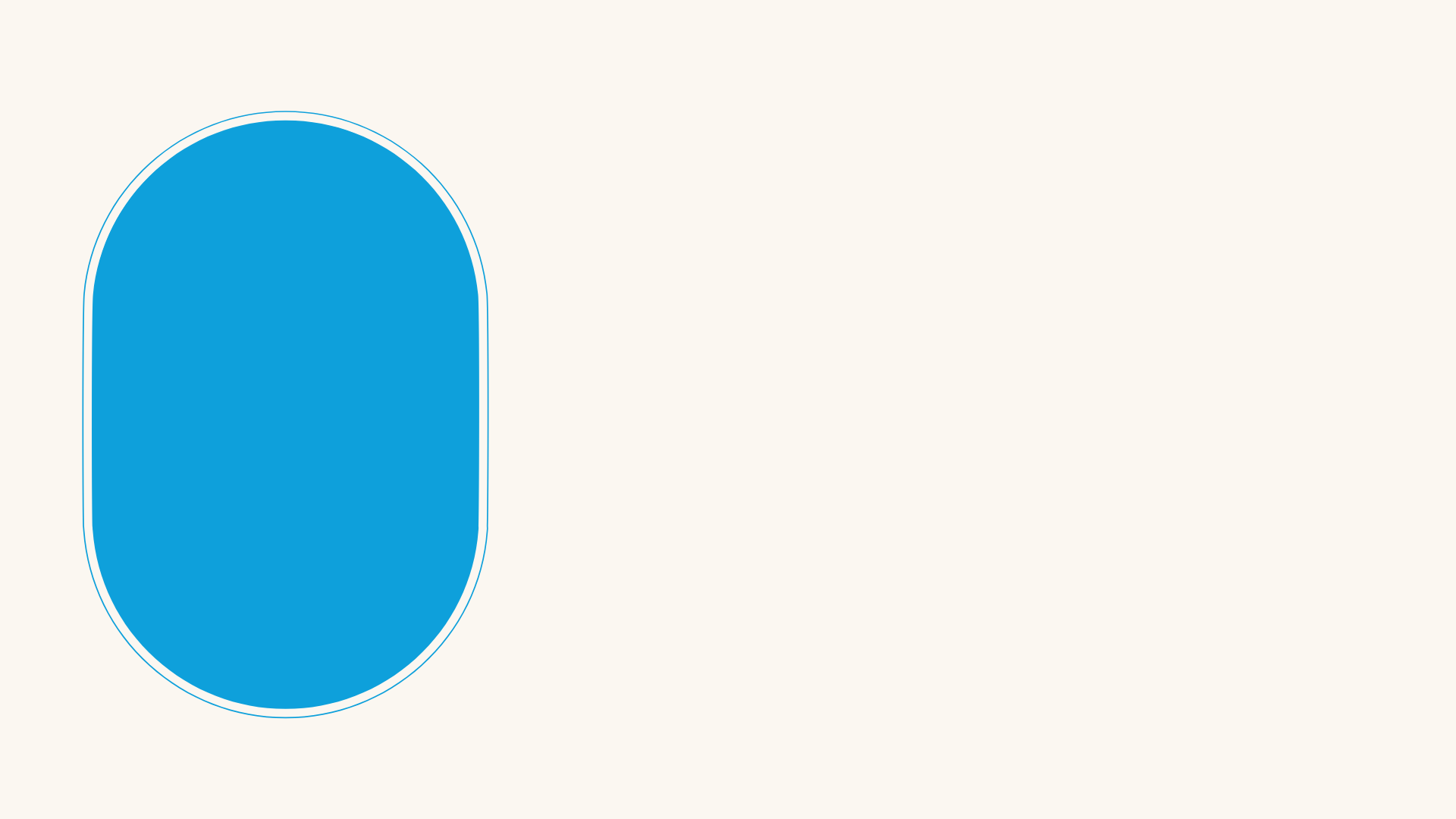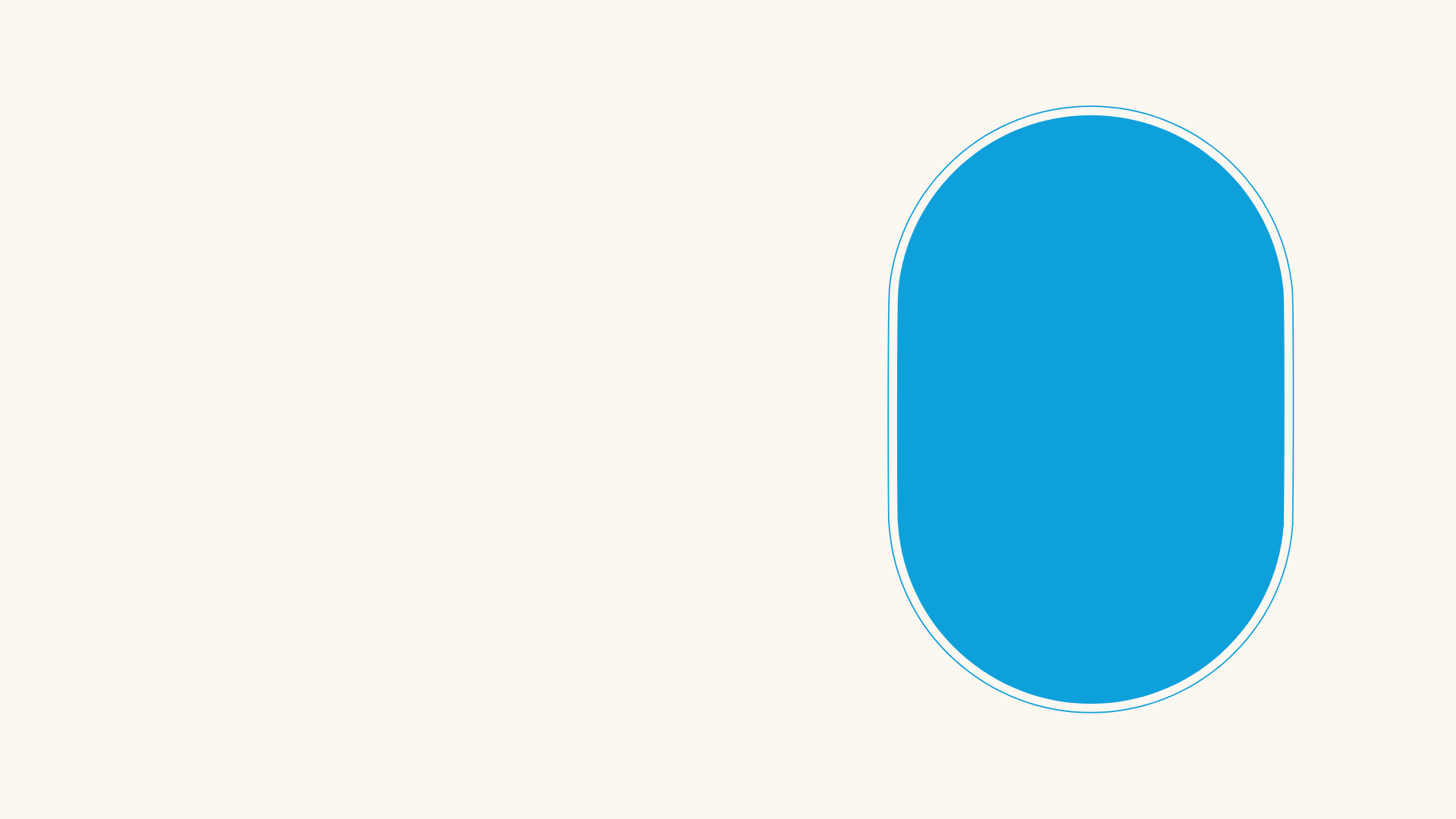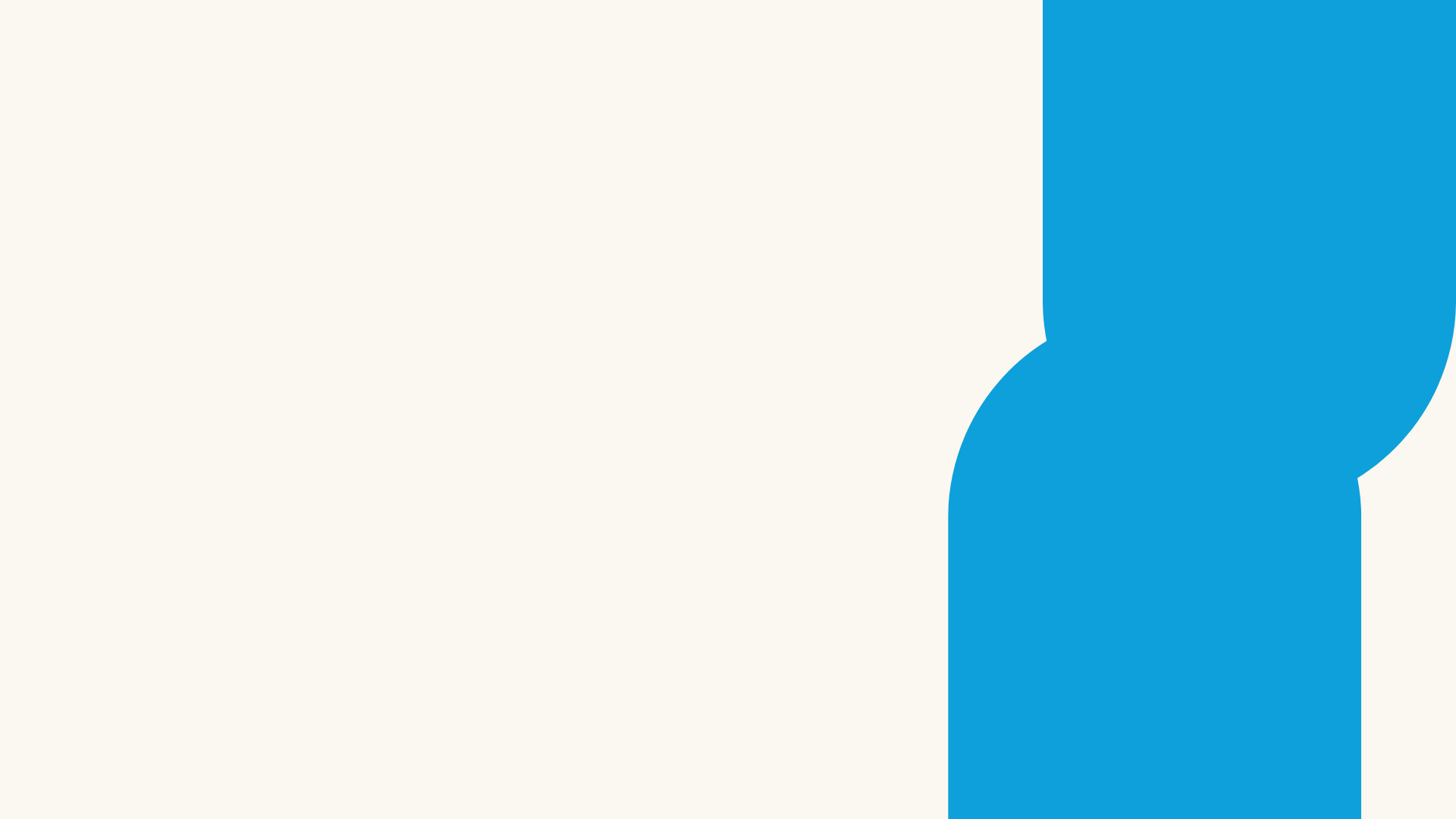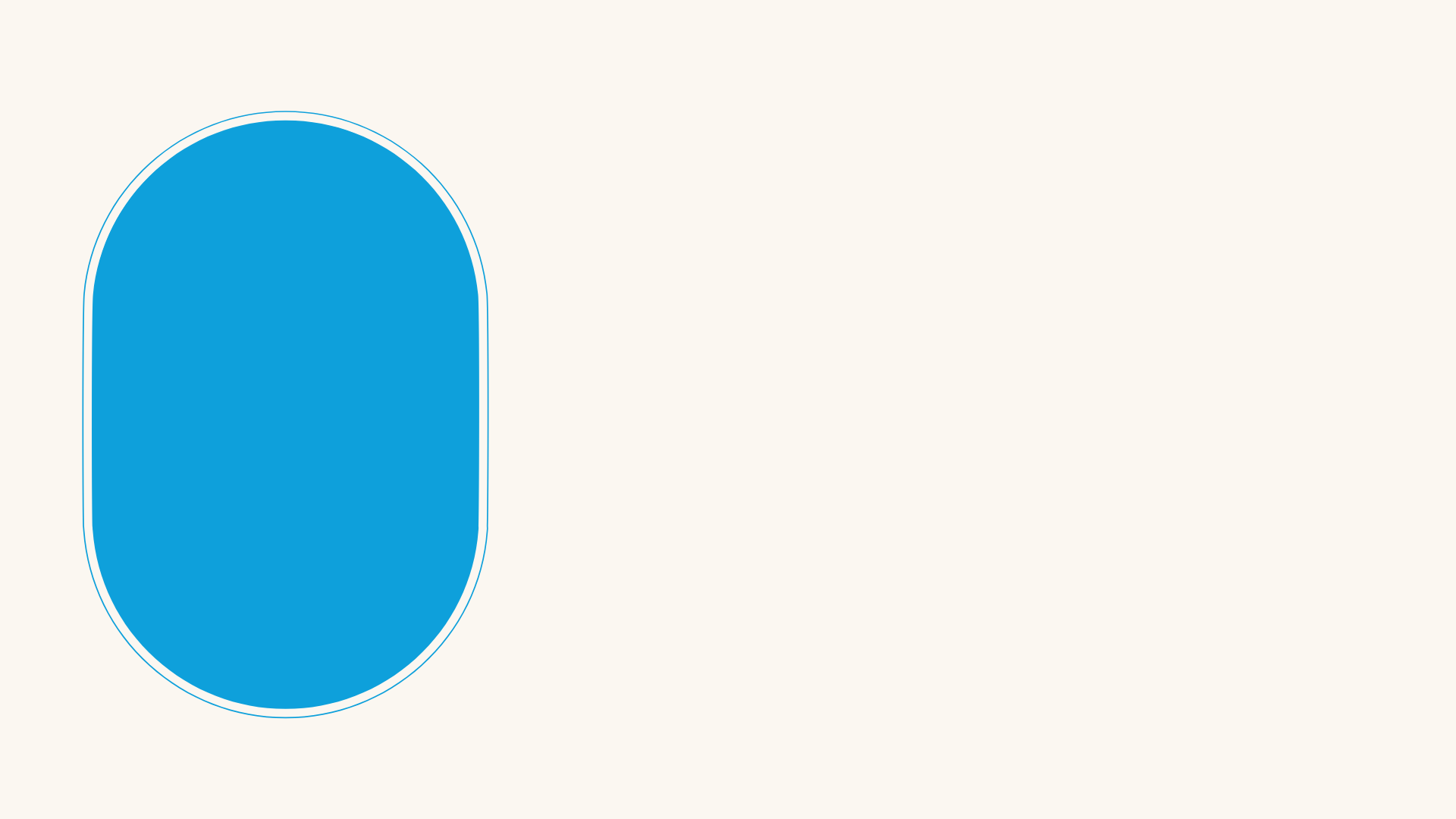 Exhibit background
Deqa Dhalac (Late 1968 or 1969)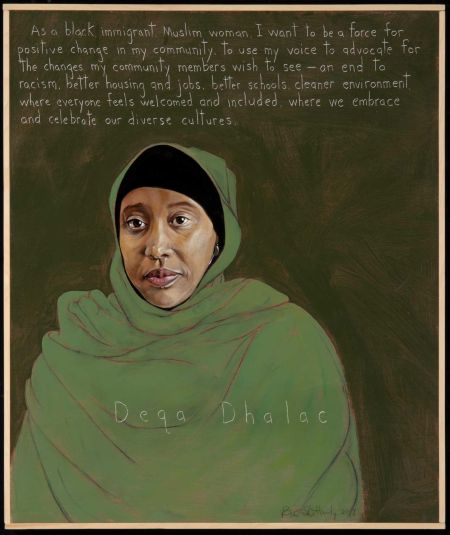 "As a black, immigrant, Muslim woman, I want to be a force for positive change in my community, to use my voice to advocate for the changes my community wishes to see – an end to racism, better housing and jobs, better schools, cleaner environment, where everyone feels welcomed and included, where we embrace and celebrate diverse cultures."
Exhibit background (3)
Deqa Dhalac (Late 1968 or 1969)
Although her exact birthdate is unknown, Deqa Dhalac was born in either 1968 or 1969 in Mogadishu, Somalia, to a progressive family. Dhalac describes her father as a "feminist" because he always taught the value of a woman's place in education and the home. Dhalac's father was also imprisoned multiple times in Somalia for his outspoken pro-democracy advocacy. Growing up, Dhalac learned English, Italian, and Arabic. As a young woman, she earned a degree in accounting.
Dhalac fled Somalia in 1990 as it slid into civil war. After spending time in London and Toronto, Dhalac found herself in Atlanta, Georgia, in 1992 where she married her husband Abdi Farah, a Somali businessman. Her accounting degree gave herself an advantage versus other immigrants in the competitive job market of the United States. In 2005, she moved to Lewiston, Maine, with her three children. She wanted to move to Lewiston because of its already large Somali community and its small town feel. While in Maine, she earned a Master's in Development Policy and Practice from the University of New Hampshire and then a second Master's degree in Social Work from the University of New England.
After a few years in Lewiston, Dhalac moved her family to South Portland, Maine, where she uses her freedom of assembly work with the Somali Community Center of Maine, the Maine Immigrant Rights Coalition, and the Maine Women's Fund. She also uses her freedom of assembly to work as a Maine Department of Education's Family Engagement and Cultural Responsiveness Specialist. In 2018, she used her five freedoms to secure a spot on the South Portland City Council, and in 2021, Dhalac was unanimously elected to be mayor of South Portland, Maine. She became the first black mayor of South Portland, a city that is 90% white. She summed up her leadership style as bringing truth to government by using her Muslim values, allowed by her freedom of religion, which teach, "if I don't have the answer, I won't pretend that I do. You ask your brothers and sisters to help you solve problems."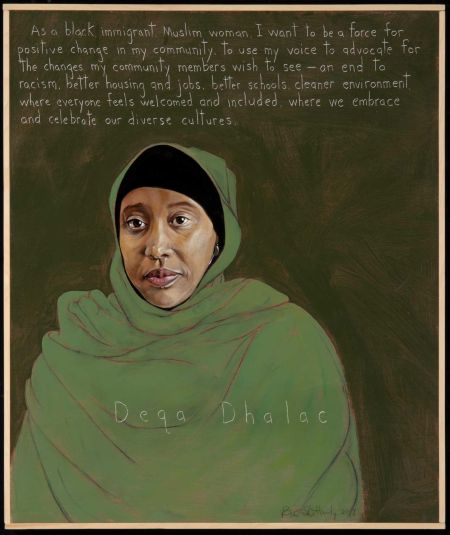 Exhibit background (4)
Rachel Carson (1907 – 1964)
"The more clearly we can focus our attention on the wonders and realities of the universe about us, the less taste we shall have for destruction."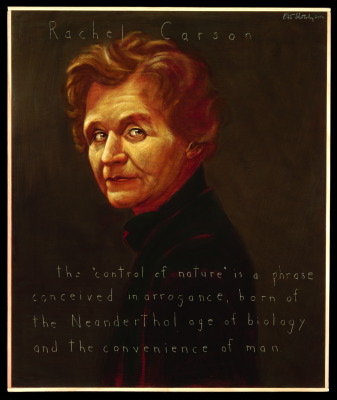 Exhibit background (1)
Rachel Carson (1907 – 1964)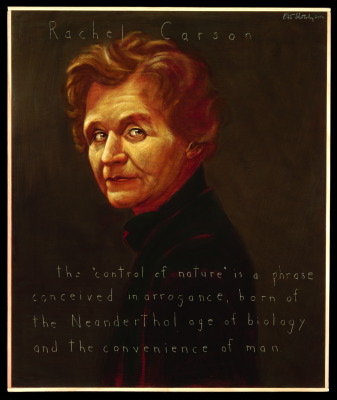 Born in 1907, near Springdale, Pennsylvania, Rachel Carson spent her youth exploring the natural world on her family's 65-acre farm. An avid reader and writer, Carson published her first story at the age of ten using her freedom of the press. Graduating high school in 1925 at the top of her class, Carson studied Biology at the Pennsylvania College for Women graduating in 1929. After college and outscoring all the other applicants on the civil service exam, she became the first full-time professional woman employed in the United States Bureau of Fisheries, using her freedom of speech to write radio broadcasts, brochures, public appeals, and more.
Carson rose within the Bureau, now renamed the Fish and Wildlife Service, by 1945, supervising a small writing staff, and by the 1950s, becoming chief editor of publications. Using her freedom of the press, she published her first major literary success, staying on the New York Times Bestseller list for 86 weeks, The Sea Around Us, a scientific and poetic reflection on the ocean. More books would follow throughout the years but Carson began following, with increasing alarm, the development and implementation of a new pesticide called dichlorodiphenyltrichloroethane, or simply DDT.
First released for public sale in the United States in 1945, DDT is a colorless, tasteless, and almost odorless chemical compound that was developed as an insecticide. It quickly became popular and even the United States Department of Agriculture planned to eradicate fire ants and the gypsy moth using it. Horrified at the toxic environmental side effects and the dangers DDT posed to human and animal health, Carson used her freedom of the press to tell the truth about the chemical and publish a poetic and readable expose on DDT entitled Silent Spring in 1962. Silent Spring catapulted Carson to fame and brought DDT to the direct attention of the American public. The book was such a success it helped lead to the creation of the environmental movement and the official banning of DDT for agricultural use in the United States in 1972. The banning of DDT also led to the comeback of the Bald Eagle in North America, the national bird of the United States.
Beginning in 1952, she summered on Southport Island, Maine. She also wrote her 1955 book on the ecology of the Atlantic coast, The Edge of the Sea, while in Maine. Carson died in 1964 and some of her ashes were scattered near Sheepscot Bay on Southport Island. She was posthumously awarded a Presidential Medal of Freedom by President Jimmy Carter.
Exhibit background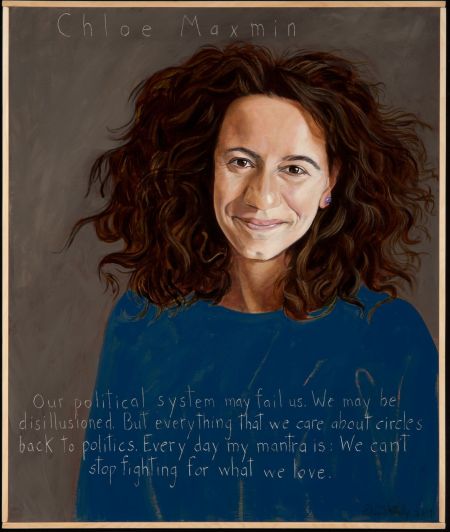 "Our political system may fail us. We may be disillusioned. But everything that we care about circles back to politics. Every day my mantra is: We can't stop fighting for what we love."
Exhibit background (3)
Born in 1992 and growing up on a farm in Nobleboro, Maine, Maxmin attended high school at Lincoln Academy in Newcastle, Maine. In 2005, a company wanted to overdevelop Moosehead Lake in northern Maine. Inspired to tell the nasty truth about this proposed project, Maxmin used her freedom of assembly to found the Lincoln Academy Climate Action Club as a ninth-grader. The Climate Action Club was a success and it halted the development on Moosehead Lake. This led to Maxmin being featured in the docuseries Big Ideas for a Small Planet in 2009. She was also one of ten national winners of the Gloria Barron Prize for Young Heroes in 2010.
Maxmin graduated from Lincoln Academy and attended Harvard University beginning in 2011. At Harvard, Maxmin continued her climate activism and used her freedom of assembly to co-found the "Divest Harvard" campaign which focused on ending Harvard's endowment relationship with fossil fuel companies. More honors followed her work at Harvard, including Maxmin being named a "Green Hero" by Rolling Stone. In 2014, the Maine Women's Fund presented her with the 2014 Samantha Smith Award for her youth activism and work towards environmental sustainability and justice. Graduating from Harvard in 2015, Maxmin returned to Maine.
In 2018, Maxmin used her five freedoms to run for a slot in the Maine House of Representatives as a Democrat. Winning 53% of the vote, Maxmin became the youngest woman in the Maine State Legislature. As a Representative, she introduced the "Act to Establish a Green New Deal for Maine" in 2019. Although the final bill was chopped from the original five sections proposed by Maxmin down to two, it passed the Maine Legislature and was signed into law by Governor Janet Mills on June 17, 2019. The bill gives apprenticeships and training for jobs centered around Green energy and provides solar installations on newly built schools. In 2020, Maxmin ran for the State Senate securing her seat with 51% of the vote. In 2021, she was appointed to the Maine Climate Council. Maxmin continues her work, all with the help of her five freedoms, in the Maine state government to this day.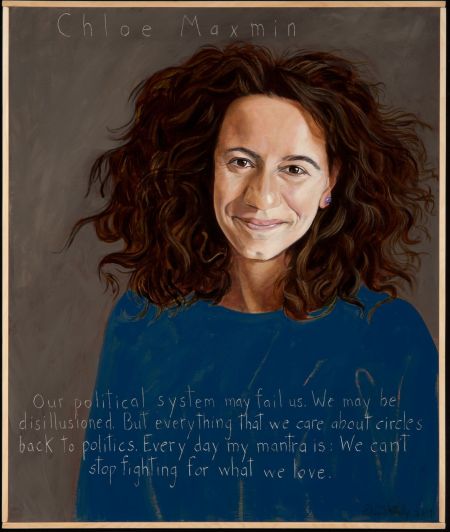 Exhibit background (4)
"If I did not think there was a link between environmental and social justice issues, I don't think I would be in this work. We cannot silo ourselves to advocacy around a single issue; instead, we must have an intersectional approach to activism which contributes to addressing all inequities."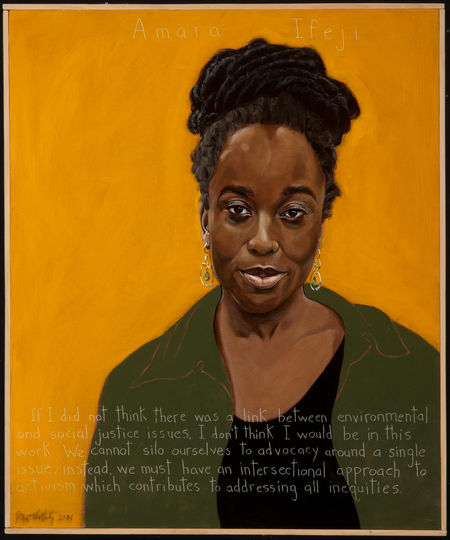 Exhibit background (1)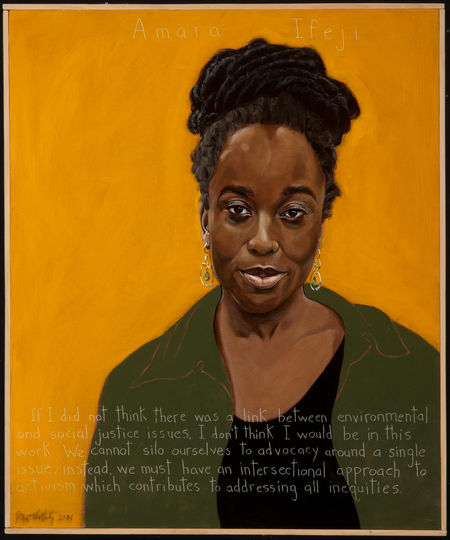 Amara Ifeji was first introduced to the wonders of the natural world when she moved to Bangor, Maine, from the Washington D.C. area in 2011 at the age of 10. Soon after arriving, she visited Mount Desert Island, Maine, where she remembers "peering out over the large expanse atop Cadillac Mountain at something (she) had never seen before growing up in an urban city." This began her love affair with nature. This love compelled her to get involved in the effort to protect the natural world and to seek out more opportunities to engage in environmental activism. Using her freedom of assembly, she became the president of Bangor High School's Storm Water Management and Research Team where she worked to preserve and advance the safety and environmentally-friendly recreational use of the Penobscot River.
While in high school, however, Ifeji experienced racism firsthand when a classmate started loudly screeching white supremacist rhetoric in her presence. In response, Ifeji used her freedom of assembly to establish the Multicultural Student Union for students of color to be able to share their experiences of racism at a school that she believed contained a culture of white supremacy. Knowing she needed to tell the truth and using her freedom of petition, Ifeji outlined a set of demands for the school board that received over 6,500 signatures. After much haranguing, the school board listened and instituted mandatory district-wide Diversity and Inclusion Training for faculty and students.
At the age of 16, Ifeji used her freedom of assembly to attend the Maine Environmental Change Makers Gathering which opened her eyes to how environmental and racial justice issues were intertwined. With her own background in mind, she began promoting environmental activism to promote a more equitable relationship with the natural world for all people, not just white people. For her work she received the North American Association for Environmental Education 30 under 30 Award and a National Geographic Young Explorer Award. In her acceptance speech for the National Geographic Young Explorer Award, Ifeji said, "If someone has a connection to the outdoors and grew up playing outdoors, they're going to stick with that connection and they're not going to let the environment be exploited." 
Now a student at Northeastern University, she also has served as the Grassroots Coordinator for the Maine Environmental Education Association. She also uses her freedom of assembly to serve on the Nature Based Education Consortium which works to protect bodies of water in New England. In 2020, Ifeji met with the Maine Climate Council where she shared her story about the importance of climate education through racial justice. Recently, the group successfully helped pass the "Maine Won't Wait" four-year climate resiliency plan through Governor Janet Mills. Ifeji continues her advocacy and activism to this day.
Exhibit background
Denise Altvater (Wiciw Ckuwatoni Ehpit) (1959 – )
"By acknowledging and sharing my truth, taking responsibility and seeking forgiveness, I can show my beautiful children, my family and my people that we can restore our hearts, minds and souls."
Exhibit background (3)
Denise Altvater (Wiciw Ckuwatoni Ehpit) (1959 – )
Born into a single-parent household on the Passamaquoddy Reservation at Pleasant Point, Maine, Denise Altvater's mother, the sole family provider, was taken away by the Maine Department of Health and Human Services when she was only seven years old. Altvater and her sisters spent their childhoods in the foster care system where she was regularly beaten, raped, starved, and tortured in various ways. By the age of 11 Altvater had been placed into a family although she was separated from her biological sisters. With her foster family, she was discouraged from telling anybody she was Passamaquoddy and was isolated from her heritage and culture. After spending a few years with her new foster family, Altvater was reunited with her biological mother whom she returned to the Passamaquoddy Reservation with.
As a teenager, she attended Lee Academy in Lee, Maine, where she made the cheerleading team. Unfortunately, Altvater had her cheerleading uniform stolen and cut to shreds. A sign had been left on it that read, "not for Indians."  She dropped out of Lee Academy and transferred to Eastport High School where she continued to experience racism and bigotry. Through hard work, difficulties, and determination, however, Altvater managed to get her GED and a diploma from the University of Maine – Machias by the age of 27. 
Her life changed when the Quaker organization, the American Friends Service Committee (AFSC), using their freedom of religion, hired her in 1992 to create an AFSC Wabanaki branch. The program was perfect for her as it emphasized a renewal of Passamaquoddy traditions, trained her in professional job skills, and gave her the opportunity to help other indigenous youth deal with discrimination, domestic abuse, and addiction. Through the AFSC program, Altvater had found her calling as a truth teller representing her people. She was fascinated by Wabanaki traditions, rituals, and history. The Wabanaki name she was given, "Wiciw Ckuwatoni Ehpit," means: "One Who Rises With The Sun." By her mid-thirties she participated in a Mi'kmaq naming ritual and also had to make a commitment to never use alcohol or
While working with the Wabanaki, however, she noticed the rising devastation of indigenous communities by Oxycontin and opioid use. Maine had the nation's second-highest per-capita abuse of Oxycontin at the time. She used her freedom of speech to sound the alarm and tell the truth about the opioid epidemic in Maine and seek help for communities struggling with opioids. However, Altvater's most prominent achievement came when Maine was found to be out of compliance with the federal Indian Child Welfare Act. Altvater rose to the occasion and used her training, background, skills, and freedom of assembly to help create the Maine Wabanaki-State Child Welfare Truth and Reconciliation Commission which helped reform the foster care system for indigenous children in Maine. Altvater still continues her five freedoms for indigenous rights and is an active member of the Wabanaki community. 
Exhibit background (4)
Jane Addams (1860 – 1935)
"True peace is not merely the absence of war, it is the presence of justice."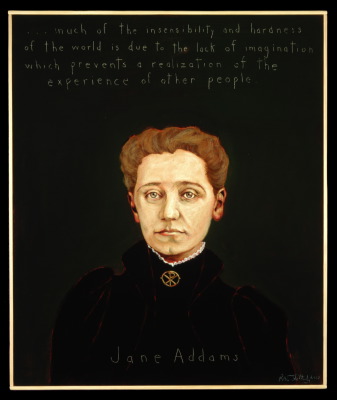 Exhibit background (1)
Jane Addams (1860 – 1935)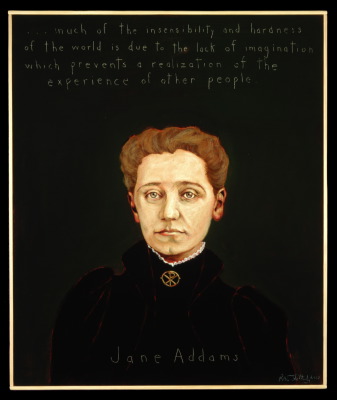 Jane Addams is a common figure in any entry-level United States history textbook. Born to a wealthy family in Cedarville, Illinois, in 1860, Addams struggled with mental and physical health issues as she grew up. Her struggles inspired her to become a doctor so that she could help people in similar positions, unfortunately, due to more health issues, she did not complete her medical degree at the Woman's Medical College of Pennsylvania. Despondent over her medical school failure, she reflected on other ways she could help the less fortunate. She began looking for ideas in books. After much reading, she learned about the "Settlement Movement" in England and the first Settlement House, Toynbee Hall. The Settlement Movement sought to build places where different social classes and groups of people could intermix in physical proximity and social interconnectedness. Mostly middle-class workers taught classes, provided healthcare, ran recreational programs, conducted vocational training, and more to people from all walks of life in Settlement Houses.
After learning about the Settlement Movement, Addams became inspired to start a Settlement House in the United States. Therefore, in 1889, Addams and Ellen Gates Starr used their freedom of assembly to co-founded Hull House, a Settlement House in Chicago, Illinois. Addams at first paid for all of the expenses and most of the operating costs. However, gifts from wealthy patrons began to increasingly support Hull House. At its height, Hull House received 2,000 people each week for its various programs. Hull House was a center for research, study, and debate, as well as a center for the surrounding neighborhood. Hull House was a historic success bringing various ethnic, lower-class, and immigrant groups into close contact with wealthy patrons and middle-class activists. Hull House remains one of the most influential and famous activist projects in US history.
Beyond her work at Hull House, Jane Addams was always a truth teller. In response to the seizure of Spanish colonies following the Spanish-American War, Addams used her freedom of assembly and joined the Anti-Imperialist League which advocated against American imperialism. During World War I, she used her freedom of assembly to join the Woman's Peace Party which united women from around the world in renunciation of the war. She was also a steadfast pacifist, using her clout as an activist to pursue peace-related causes. For her work, she became the first American woman awarded a Nobel Peace Prize in 1931. To top it all off, she was a suffragist, labor-rights activist, a co-founder of the American Civil Liberties Union, and a prohibitionist. She even helped found the field of sociology in the United States through her close relationship with the University of Chicago and her own writing. 
Addams owned a summer home in Bar Harbor, Maine, with her partner Mary Rozet Smith. Like many people, Maine was a place Addams could get away to. She would use her time in Maine to catch-up on correspondence with people from all walks of life including Theodore Roosevelt and W.E.B. Du Bois. She also would spend quality time with Smith amongst the natural beauty of Bar Harbor. Addams died in 1935 at the age of 74.
Exhibit background
Margaret Chase Smith (1897 – 1995)
"Moral cowardice that keeps us from speaking our minds is as dangerous to this country as irresponsible talk. The right way is not always the popular and easy way. Standing for right when it is unpopular is a true test of moral character."
Exhibit background (3)
Margaret Chase Smith (1897 – 1995)
Margaret Chase Smith's shadow looms so large over Maine, a painting of her still hangs in the Maine State House in Augusta. Born to a humble family in Skowhegan, Maine, in 1897, she began working at the age of 12. Armed with only a high school degree, she took an interest in Republican politics and used her five freedoms to get elected to the Maine Republican State Committee in 1930. She married Clyde Smith who was elected to the United States House of Representatives in 1936. They moved to Washington D.C. that same year.
After her husband died of a heart attack in 1940, Smith won a special election to the United States House of Representatives to fill his spot becoming the first woman elected to Congress from Maine. She would be elected three more times and serve eight years as a Congresswoman. With a strong interest in the armed forces, she used her freedom of assembly to found the Women Accepted for Volunteer Emergency Service (WAVES), the women's branch of the Naval Reserve during WWII. She was also the only female civilian to travel aboard a United States Navy ship during WWII when she went on a 25,000 mile trek across the South Pacific to investigate the efficacy of destroyers. She often voted for pro-labor and pro-defense legislation.
In 1948, Smith retired from the House of Representatives and was elected to the United States Senate becoming the first woman in United States history to be elected to both the House of Representatives and the Senate. When one woman questioned whether women could make good Senators, Smith replied, "Women administer the home. They set the rules, enforce them, mete out justice for violations. Thus, like Congress, they legislate; like the Executive, they administer; like the courts, they interpret the rules. It is an ideal experience for politics." 
Smith's greatest moment came, however, at the height of the Second Red Scare. Initially supportive of Wisconsin Senator Joseph McCarthy's communist witch hunts, she eventually became disillusioned by McCarthy's inability to present any real evidence against the accused. On June 1, 1950, Smith used her freedom of speech to deliver her famous "Declaration of Conscience" speech and tell the truth about McCarthy and the House of Un-American Activity (HUAC), a committee of the United States House of Representatives designed to investigate Americans with supposedly fascist or communist ties. Smith famously stated the four basic principles of "Americanism" were: the right to criticize, the right to hold unpopular beliefs, the right to protest, and the right of independent thought. Smith was one of the first major politicians to vocalize opposition to McCarthy. Always a truth teller and still an anti-communist, however, Smith argued that the United States should launch a preemptive nuclear strike on the USSR. This prompted Soviet premier Nikita Khrushchev to label Smith "the devil in disguise of a woman." Smith was also a supporter of Civil Rights legislation and the Vietnam War. 
In 1964, Smith announced her candidacy for president. Knowing she was unlikely to be elected, Smith said, "I have few illusions and no money, but I'm staying for the finish. When people keep telling you you can't do a thing, you kind of like to try." Her campaign song was "Leave It to the Girls," which was performed by Hildegarde. At the 1964 Republican National Convention, she became the first woman to be nominated for the presidential candidacy of a major political party. 
Retiring from the Senate in 1973, Smith worked as a professor but returned to Skowhegan in 1976. In 1989, she was awarded a Presidential Medal of Freedom by George H.W. Bush. Dying in 1995 at the age of 97, Smith was the last living former United States senator who had been born in the 19th century. 
Exhibit background (4)
Frances Perkins (1880 – 1965)
"Feminism means revolution and I am a revolutionist."
Exhibit background (1)
Frances Perkins (1880 – 1965)
One of only two cabinet members to stay on through the entirety of Franklin Delano Roosevelt's twelve-year presidency, Frances Perkins is one of the most famous and influential Secretary's of Labor in United States history. Although both of her parents were from Maine, Perkins was born in Boston, Massachusetts. Attending high school in Worcester, Massachusetts, she eventually graduated from Mount Holyoke College in 1902 with degrees in chemistry and physics. While at Mount Holyoke College, Perkins was introduced to progressive politics including labor-rights and the suffrage movement.
After college, Perkins was involved in a variety of causes. Bouncing around, she used her freedom of assembly to work in Jane Addams' Hull House in Chicago and as a social worker in Philadelphia. While in Philadelphia, Perkins received her masters in economics from the University of Pennsylvania's Wharton School. She then moved to New York City where she became involved in the suffrage movement, using all five of her freedoms. Her life changed, however, in New York City when she witnessed the tragic Triangle Shirtwaist Fire. Disgusted by the lax regulations that led to the tragedy, she became the executive secretary for the Committee on Safety of the City of New York and was responsible for investigating dangerous working conditions. This was done to give a truthful account of the disaster and make sure it never happened again. She played a key role in crafting new rules and regulations protecting workers. She crafted a name for herself through her work and activism.
Her reputation growing, Perkins became more involved in the cause of labor. In 1919, she was nominated to the Industrial Commission of the State of New York, becoming one of the first female commissioners in New York State and the highest-paid female employee in New York State at the time. As a commissioner, she used her freedom of speech to advocate for expanded investigations into industrial working conditions, a reduced work week for women, a minimum wage, and new unemployment insurance laws. She also vigorously fought end to child labor and to provide greater safety for women workers throughout New York.
In 1933, newly elected president Franklin Delano Roosevelt appointed Perkins to be his Secretary of Labor. Her appointment made her the first woman to hold a presidential cabinet position and also the first woman to enter the presidential line of succession. Her work in the Roosevelt administration included helping to craft the Social Security Act, the Civilian Conservation Corps, the Fair Labor Standards Act, and the She-She-She Camps. Always an advocate for free speech, she also ignored calls to deport the communist union leader Harry Bridges. When Roosevelt died in 1945, Harry Truman replaced her as Secretary of Labor with Lewis B. Schwellenbach. Perkins still holds the record for the longest-serving Secretary of Labor in United States history.
Although she was born and raised in Massachusetts, Perkins had a lifelong love affair with Maine. Her parents, being from Maine, maintained a family homestead in Newcastle, Maine, which they passed on to Perkins. She often spent her summers in Newcastle and would use the homestead there as a retreat from her worklife. Newcastle was a place where Perkins could connect with her native New England and the landscapes and people that inhabited it. When she passed away in 1965, she was buried in Newcastle. 
Exhibit background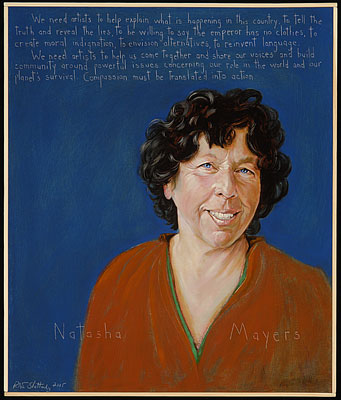 "We need artists to help explain what is happening in this country, to tell the truth and reveal the lies."
Exhibit background (3)
Natasha Mayers has been called "the heart and soul of activist art in Maine." It wouldn't be a stretch to say that Natasha Mayers is the modern voice of Maine. Always keen on telling the truth, perhaps nobody embodies art as activism, in all of American history, as much as Mayers. She studied sculpture at Sarah Lawrence College, graduating in 1967. An activist with a global perspective, Mayers served in the Peace Corps in Nigeria. Afterward, she took a job as an art teacher in Maine and began to study painting. This began her "unstill life" as a painter and activist. 
An artist and activist for over four decades, Mayers' portfolio is large and varied. Her first big project was in 1974 when she worked with patients and other Maine artists to paint murals and poetry in tunnels connecting buildings underground at the Augusta Mental Health Institute. This was a way for the patients at the Augusta Mental Health Institute to practice their freedom of speech through art. In 1975 she became a Touring Artist with the Maine Arts Commission Artist-in-Residency Program. While with the Maine Arts Commission, she supervised the painting of over 500 murals across the state. During the mid-1990s, she helped fourth and fifth graders in Maine paint their town's histories on utility poles. At the height of the Iraq and Afghanistan Wars she used her freedom of assembly and speech to organize "Warflowers: From Swords to Plowshares," a traveling exhibit of Maine artists exploring how to convert the state's defense economy into a peace economy.
In 2005, Mayers received the Arthur Hall Award "for an artist whose work, community service and commitment to their craft inspires others around them to reach their highest potential." Mayers is also known for using her freedom of assembly to found her Artists' Rapid Response Team which works to make protest signs for progressive protests. Mayers still resides in Damariscotta, Maine, where she continues her activism and to tell the truth.
To learn more about Natasha Meyers, watch the discussion the Museum hosted with her in January 2022 about the documentary about her life and work.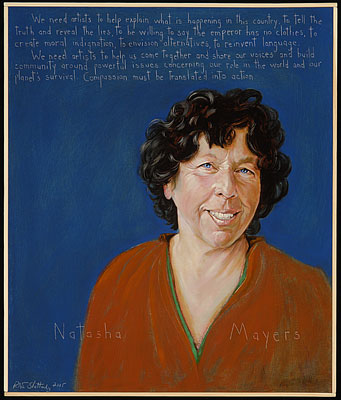 Exhibit background (4)
Sherri Mitchell (Weh'na Ha'mu Kwasset) (1969 – )
"Rights and responsibilities cannot be separated. Every right that we stand upon must be balanced by a set of corresponding responsibilities. We cannot legitimately make a demand unless we are willing to take responsibility for creating a world where that demand can be met."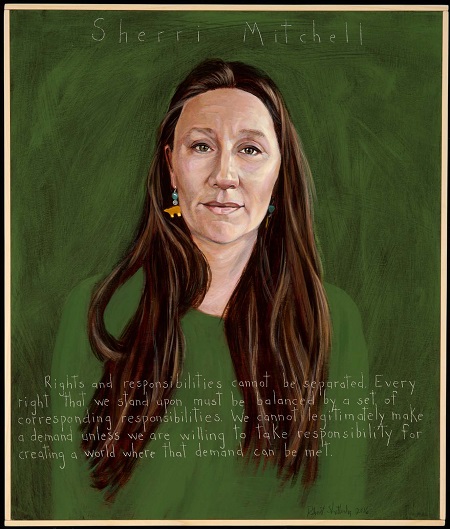 Exhibit background (1)
Sherri Mitchell (Weh'na Ha'mu Kwasset) (1969 – )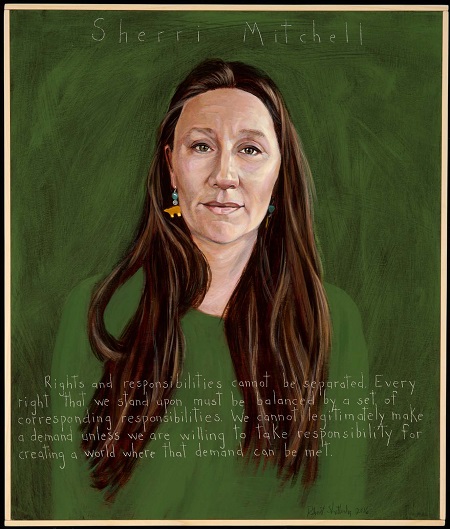 Born on the Penobscot Indian Island Reservation to Penobscot and Passamaquoddy parents, Sherri Mitchell uses her freedom of speech to educate people around the world on issues relating to indigenous rights, environmental justice, and spiritual change. Along with learning about the true rich history of her people, growing up Mitchell learned traditional indigenous skills such as basket making, cooking traditional foods, and more. Sherri earned her Bachelor's degree at the University of Maine and then went on to receive her JD and a certificate in Indigenous People's Law and Policy from the University of Arizona. As an Indigenous rights lawyer, she believes our job is to be stewards of a way of life that fosters harmony and balance among all living things.
Mitchell has been involved in a variety of causes. She used her freedom of assembly to found and direct the Land Peace Foundation, an organization dedicated to the protection of Indigenous land and water rights. Sherri has also served as a law clerk with the Department of Interior, as an Associate in a law firm, as a civil rights educator for the Maine Attorney General's Office, and as a Staff Attorney for the Native American Unit of Pine Tree Legal.
Through her work, Mitchell has been deeply committed to cultivating and restoring the traditional and ceremonial practices of the indigenous peoples of Maine. She has also been an advisor to the American Indian Institute's Traditional Circle of Indian Elders and Youth and was a program coordinator for their Healing the Future Program. Amazingly, she has also used her freedom of speech to serve as an advisor to the Indigenous Elders and Medicine People's Council of North and South America for the past 20 years. In this role, she has worked with Indigenous spiritual leaders from across the Americas. As a writer, her work touches on issues of indigenous rights, environmental justice, peacebuilding, strategic nonviolence, and spiritual activism throughout the United States and Canada.
Mitchell is most famous for her use of freedom of the press, however. Her most famous recent publications are Sacred Instructions: Indigenous Wisdom for Living Spirit-Based Change and The Corona Transmissions: Alternatives for Engaging with COVID-19―from the Physical to the Metaphysical. In Sacred Instructions, Mitchell shares the spiritual gifts she has received from the elders of her tribe using their freedom of religion, and asks us to look deeply into the illusions we have labeled as truth and which separate us from our higher mind and from one another.  In The Corona Transmissions, Mitchell explores a broad spectrum of new perspectives on COVID-19, from the physical to the metaphysical, from ecological to political, from apocalyptic to proto-utopian, and from scientific facts and health tips to imaginings, visionings, poems, and awakenings. These perspectives help us find more spiritually based alternatives to things like doctors, hospitals, vaccines, and modern medicine. COVID-19 is therefore explored through the lenses of cultural critique, divination, prophecy, warning, elucidation, and opportunity and includes the voices of medical doctors, herbalists, naturopaths, indigenous healers, and homeopathic physicians. Mitchell still lives, works, and writes in Maine today. She is a powerful voice for her community and our planet.
Exhibit background
Samantha Smith (1972 – 1985)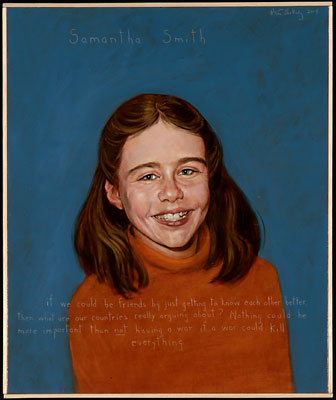 "If we could be friends by just getting to know each other better, then what are our countries really arguing about? Nothing could be more important than not having a war if a war could kill everything."
Exhibit background (3)
Samantha Smith (1972 – 1985)
Known as "America's Youngest Ambassador," Samantha Smith has been immortalized with a statue near the Maine State House in Augusta. Born in Houlton, Maine, in 1972, at the age of eight her family moved to Manchester, Maine. Showing a precocious interest in international relations, at the age of 5 she used her freedom of speech and petition to write a letter to Queen Elizabeth II expressing her admiration for the monarch. However, by the age of 10, with the Cold War raging, she showed a growing anxiety in the state of international relations.
In 1982, Samantha Smith made headlines when she was invited to the Soviet Union. In November, Smith used her freedom of speech and petition to write to Soviet leader Yuri Andropov wanting to know the truth on why the Soviet Union and the United States were engaged in the Cold War. Her letter was published in the Soviet newspaper Pravda but she received no reply from Andropov. She wrote again and in April, Andropov sent a return letter and also invited Smith to visit the Soviet Union causing a media circus. Smith became an overnight celebrity. In July of 1983, she flew to Moscow with her parents, and spent two weeks touring the Soviet Union as a "goodwill ambassador."  She met everyday people from all over the Soviet Union and the media followed her trip closely. She truthfully demonstrated that Soviets and Americans both wanted peace. She returned to Maine a hero. 
Smith's fame only seemed to grow until her life was tragically cut short. In 1984, she hosted a children's special for the Disney Channel entitled Samantha Smith Goes To Washington…Campaign '84. The show covered politics from the perspective of Smith. In 1985, she also had a co-starring role in the TV show Lime Street. Sadly, on August 25, 1985, Smith and her father were returning home from filming Lime Street when the plane carrying them crashed, killing all six passengers and two crew on board. Anger and accusations of foul play from the Soviet public prompted American officials to launch a formal investigation that concluded no foul play was involved in the crash. Monuments were erected to Smith in both Augusta and Moscow, Russian astronomers named an asteroid after her, the Soviet government released stamps with her face on them, schools in New York and Washington were named for her, and more. These are just a few of the commemorations that stand as a testament to this young activist who was taken too soon.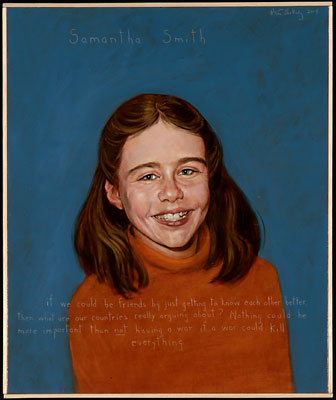 Exhibit background (4)
"Education is the root system underlying all other systems."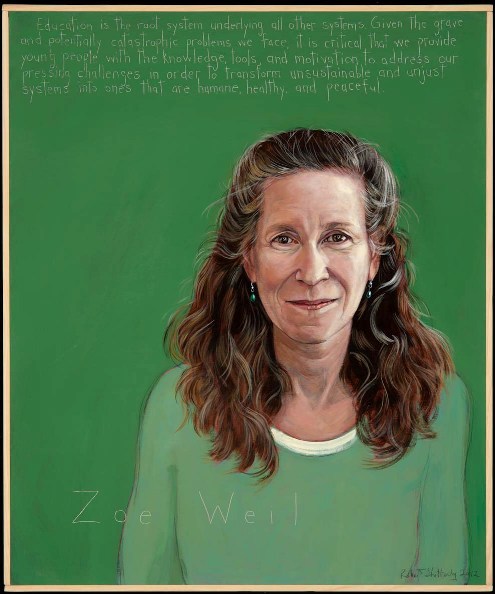 Exhibit background (1)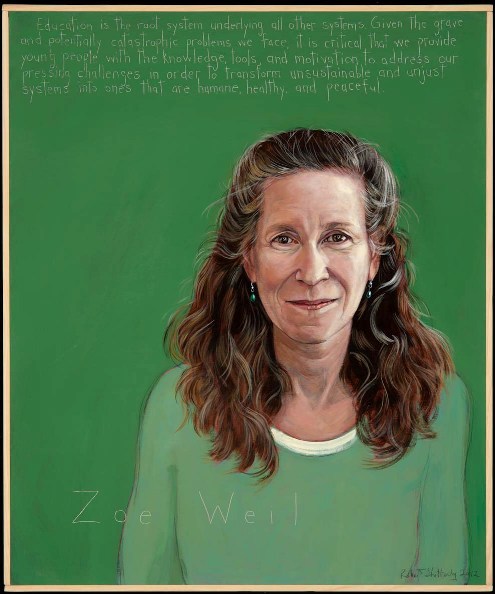 Born in 1961, Zoe Weil realized the true power of education as a teacher in Philadelphia in 1987. While studying at the University of Pennsylvania, she taught middle school students on the side. One day, she gave a class to her students on the ethics of cosmetic product testing on animals. One student, inspired by what they had just learned, became an activist overnight and made leaflets against animal testing to hand out on the street. This experience showed Weil the importance of education in inspiring social change. 
Weil crafted novel ideas on education and sought to implement them. Believing traditional notions of education in the United States needed an overhaul, she developed a more truthful and novel theory she called "humane education." Weil defined humane education as, "someone who teaches about the interconnected issues of human rights, animal protection, and environmental preservation, with the goal of providing students with the knowledge, tools, and motivation to be conscientious choice-makers and changemakers for a just, healthy and humane world." 
In 1996 she used her freedom of assembly to found the Institute for Humane Education (IHE) in Surry, Maine, the only accredited graduate program in humane education in the world. The program's goal is to teach students how to seek the truth by becoming critical thinkers and to question everything they read and hear. The IHE also trains teachers to utilize humane education in their classroom curriculums. Weil calls graduates of the IHE's program "Solutionaries." Weil has promoted her ideas of humane education in a variety of ways. She has also used her freedom of speech to deliver six TED talks and has used her freedom of the press to author seven books on humane education.
Slide
The First Amendment Museum is open from 10 AM to 4 PM | Monday through Saturday.
Visit us at 184 State Street
Augusta, Maine 04330.
connect@FirstAmendmentMuseum.org
(207) 557-2290