Journalists again in the crosshairs in Gaza Strip violence
Guest blog post by Gene Policinski
Who's on the "right side" in the current outbreak of violence between Israel and Hamas in the Gaza Strip?
Well, don't look for that answer here – but do know that good journalism allowed to do its job is among the ways to explore that question, and more.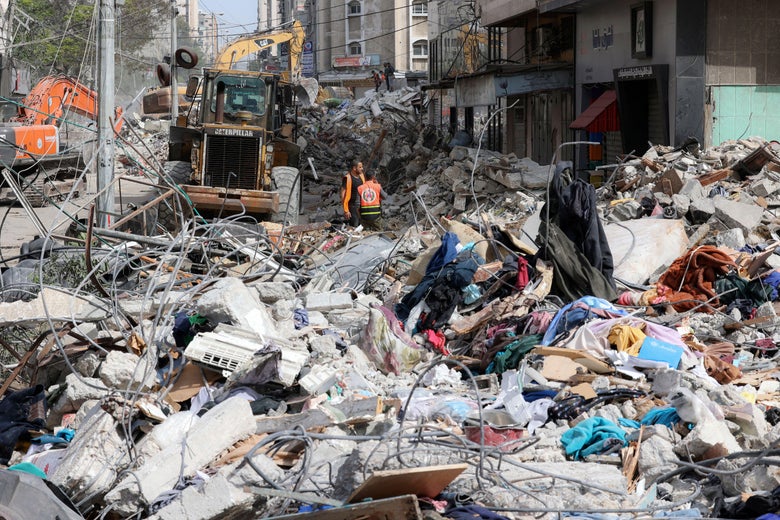 Destroyed building in Gaza City. Source: MAHMUD HAMS/Getty Images
For the moment, here is what we do know, thanks to reporters and correspondents risking their lives among bombs and rockets.
We again see disturbing images of civilians in Israeli cities and settlements dashing for underground shelters against incoming rockets fired from Gaza. On the Palestinian side, again we see wailing women and weeping men, cradling injured children, or mourning over bodies of family members killed in airstrikes.
We may be seeing less, though, even as the two sides appear to be groping toward yet another tenuous cease-fire.
Even scrupulously neutral news operations such as The Associated Press have raised suspicions that Israel is working to control news reporting from the region. The New York Times reported "a prominent 12-story building in Gaza City …(was) destroyed in an Israeli airstrike" – a building that house AP offices as well as other news outlets." Reporters and staff were warned of the attack only a short time before bombs fell.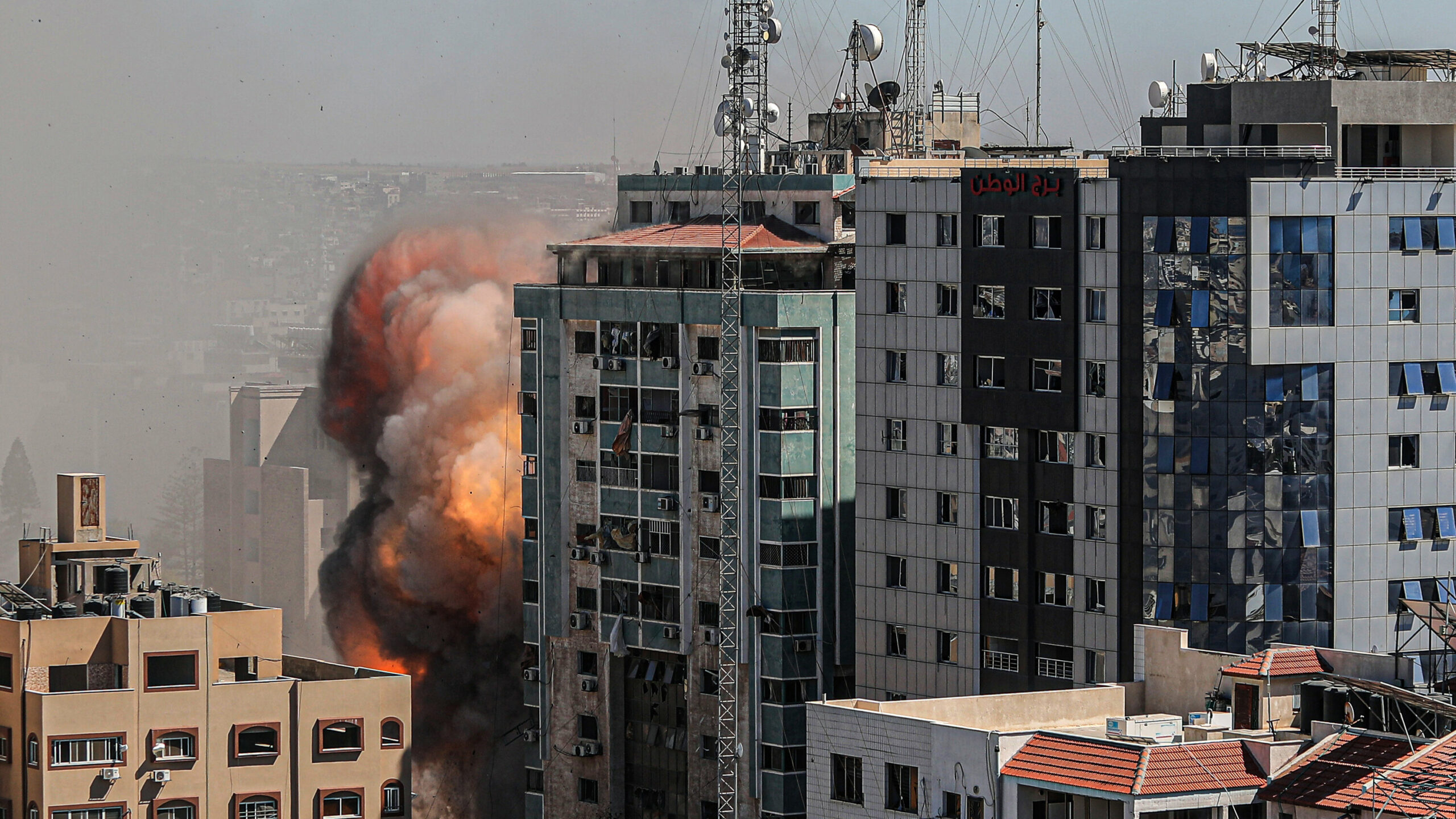 An Israeli airstrike destroyed a building in Gaza City that housed media outlets, including The Associated Press and Al Jazeera. Source: New York Times
AP president Gary Pruitt said on Saturday, May 15 that "the world will know less about what is happening in Gaza because of what transpired today." And that gets to the heart of the matter: We need information from independent news sources, with such reports all the more important and urgent as the death tolls rise.
Another circumstance also has produced complaints from multiple press operations: Early Friday, Israeli officials told international journalists – but not local Israel news outlets – that IDF forces had entered the Gaza Strip, only to pull back the statement about an hour later. Journalists are dependent on government announcements because Israel has declared its side of the Gaza region off-limits to news organizations.
A later report on the non-incursion in the Jerusalem Post was headlined "Did IDF deception lead to massive aerial assault on Hamas' Metro?" – noting speculation that Israel's initial claim was an effort to get Hamas' fighters to gather to repel such an incursion, making themselves easier to target.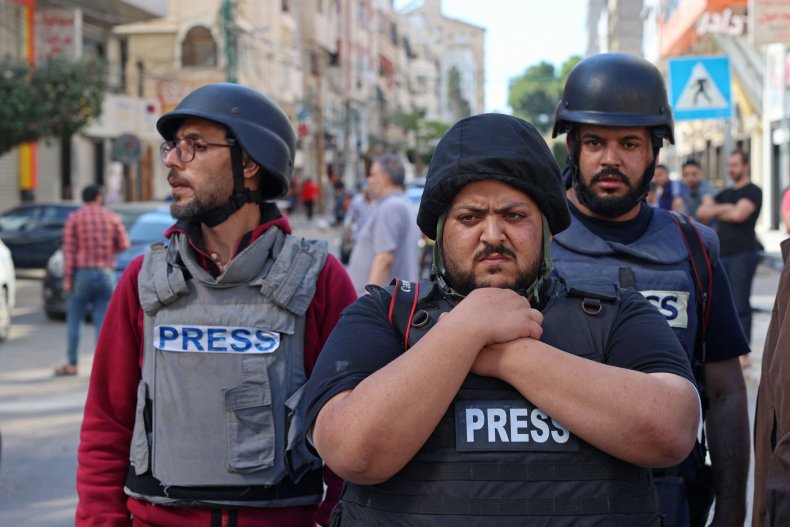 Members of the press in Gaza. Source: Newsweek
The independent Committee to Protect Journalists, headquartered in New York City, asked in a statement if the IDF was "deliberately targeting media facilities in order to disrupt coverage of the human suffering in Gaza." On Wednesday, May 19, it also condemned the killing of a Palestinian journalist for a Hamas-run radio station, Al-Aqsa in an aerial attack on the top floors of a Gaza apartment building, saying "Israeli authorities must explain why they bombed the home of a journalist, a civilian who was protected under international law."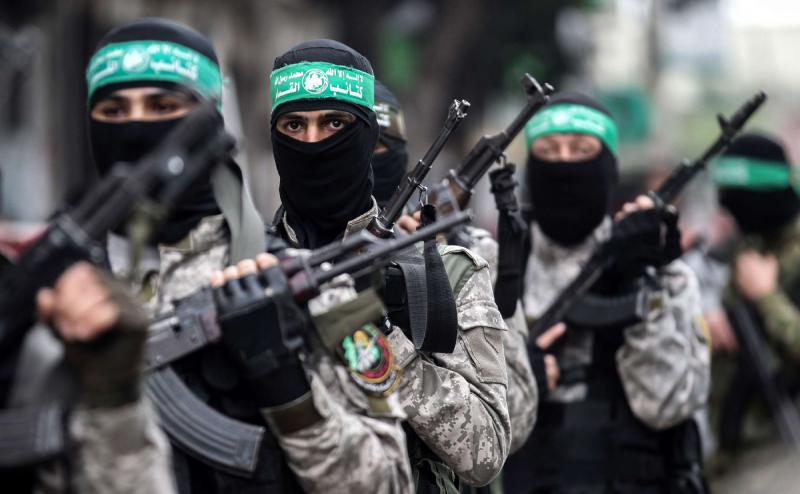 Armed members of the Palestinian Hamas, Source: AFP
For Hamas' part, Israeli officials said they believed the terror group was using the Gaza building to direct rocket attacks on the Jewish state. In response to criticism of the bombing, an Israeli official reminded reporters that "this week's case is far from the first time Hamas used journalists as human shields. During the 2014 Gaza War, Hamas was caught red-handed launching rockets 50 yards from a Gaza hotel known to be housing foreign journalists."
A government spokesman also said it appears to Israel that Hamas used the brief warning time to remove possible munitions from the building before the attack began. The IDF has not yet responded to media requests for evidence.
Reporting from the Middle East – and globally – is difficult enough without the added burden of being in the crosshairs of whatever combatant chooses to attack the press, an increasingly common tactic. With the introduction of the Web and social media, journalists are no longer needed to convey messages or images to the outside world – and thus "protected." In fact, as both governments and terrorist organizations have developed sophisticated online operations, reporters often are viewed as threats to carefully crafted narratives.
The Middle East has long been a danger zone for journalists, from kidnappings and murder to the risks of reporting from live combat areas and in operating in nations controlled by dictatorial regimes. The nonpartisan group Reporters Without Borders' recent World Press Freedom Index 2021, noted that given political tensions and the COVID-19 crisis … "most of the Middle East's governments responded … with increased authoritarianism," undermining already shaky free press guarantees across the region.
The decades-old Middle East crisis won't be solved by journalists, and to be sure some – perhaps many – will report through the lens of nationalism or partisanship. But many also will report the facts needed to find an end to the conflict – if they can gather and report them without fear of restrictions, injury, or death.
---
Gene Policinski is a trustee of the First Amendment Museum and a First Amendment scholar. He can be reached at genepolicinski@gmail.com.
---
Related Content
Watch scenes of Americans using their First Amendment freedoms to voice their opinions regarding the recent outbreak of violence between Israel and Palestine.
Across the country, protests, marches, speeches, and gatherings have occurred – in support of both Israel and Palestine. View now.